Home » » Healthy Living: Growing Wellness
Healthy Living: Growing Wellness
---
Soundbites abound when big companies talk big. When it comes to the public's health and wellness, do they walk the talk? Babalwa Shota reports.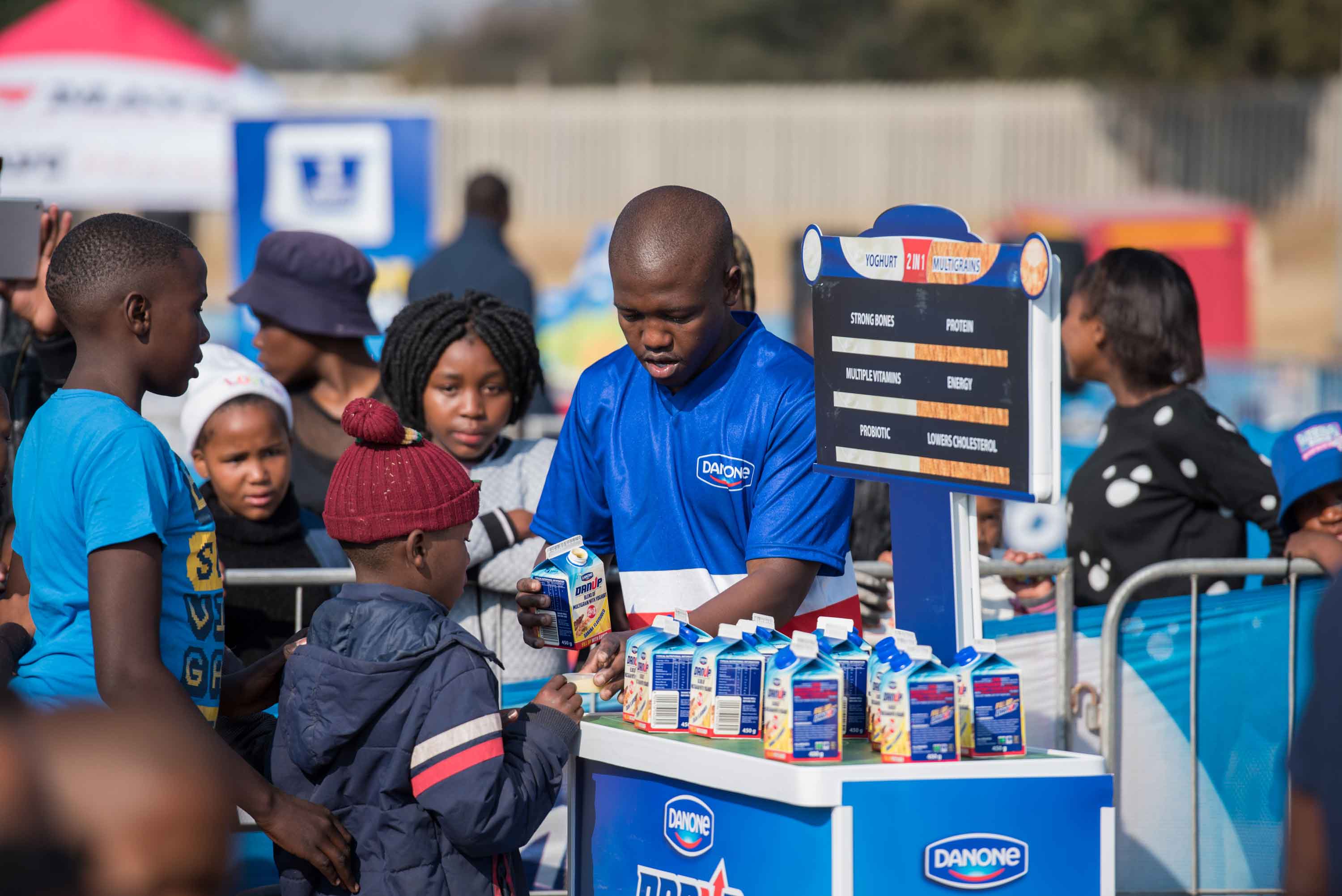 Image: Danone Nations Cup
Switch on your television and you are bound to be confronted by beautiful shiny people running in slow motion through meadows, with the sunset streaming behind, looking the picture of perfect health.
Scroll through Instagram and be seduced by artfully-styled plates of food and harvest tables groaning under the weight of organic farm-to-table produce, surrounded by more beautiful shiny people flashing blinding toothpaste smiles.
Everywhere you look, someone somewhere is selling the dream of healthy living – from food delivery apps and fitness centres, to "multi-level marketing" companies and shoe brands sporting ridiculously expensive "vegan" leather brogues.
But just how committed is big business to helping humanity live a healthier life, thereby assisting in the longevity of the present and future workforce? Living a healthy lifestyle has become synonymous with middle class in South Africa. The push to eating healthy organic food and constant exercise have again exposed the huge chasm between the haves and have-nots.
The United Nations Sustainable Development Goals Report listed poverty eradications as number one in their "17 Goals to Transform Our World" vision, with food security coming in second. "Poverty is more than the lack of income and resources to ensure a sustainable livelihood. Its manifestations include hunger and malnutrition, limited access to education and other basic services, social discrimination and exclusion as well as the lack of participation in decision-making. Economic growth must be inclusive to provide sustainable jobs and promote equality."
Closer to home, a recent report released by Statistics South Africa shows that poverty is on the rise in the country. The report, listing Statistician-General Dr Pali Lehohla, was released in August 2017 and is titled  Poverty Trends in South Africa – An examination of absolute poverty between 2006 and 2015. Its data shows that, despite the general decline between 2006 and 2011, poverty levels in South Africa rose in 2015.
"More than half of South Africans were poor in 2015, with the poverty headcount increasing to 55,5% from a series low of 53,2% in 2011. The figures are calculated using the upper-bound poverty line  (UBPL) of R992 per person per month (pppm) in 2015 prices. This translates into more than 30.4 million SouthAfricans living in poverty in 2015," states the report.
One Planet, One Health
Statistics like these have driven Danone, one of the world's leading food companies, to practise a new ethos of One Planet, One Health. The company has invested in the South African market for the past 19 years by providing health through food to as many people as possible through some of its popular brands like Nutriday and Inkomazi, and has committed to uplifting the health and well-being of South Africans through its Corporate Social Responsibility programmes.
"As a company we realise that attending to disparate energy and nutrient balance is important to create a healthier population. We cannot be passengers on this journey; we have to play an active role to teach good eating practices and to create opportunities for children to expend energy," says the company's senior research and development and science manager, Marlinie Kotiah.
"The health evidence in our country is not encouraging; with the incidence of overweight gravely impacting children less than five years at twice the global average (13% vs 6.1%), and with 19% of children aged 10  – 14 years skipping breakfast, 10% of children under five years being anaemic and children deficient in vitamin A and zinc and calcium and many B vitamins – we cannot allow our country to be another statistic."
Kotiah says they strongly believe that health goes hand-in-hand with being active, hence the 17-year-old Danone Nations Cup that reaches 3 000 schools in rural and urban areas. "The Danone Nations Cup has become the biggest football tournament in the world for children aged between 10 and 12 with more than 2.5 million youngsters around the world competing every year.  In South Africa it is run in association with the South African Schools Football Association (SASFA) and reaches around 1,3 million learners and teachers and 2,6 million parents and relatives."
This year's beneficiary is the winning Mophela Primary School from Pinetown in KwaZulu-Natal, which emerged victorious and was crowned the 2017 Danone Nations Cup national champions in July. They represented the country in the Danone Nations Cup World Finals in New York City, US, in September. "They may have finished in 27th place out of the 32 teams, but the children got to board a plane for the first time, visit another country, and most importantly have fun," says Siyabonga Ndimane, the school's voluntary coach.
"It was a dream come true and a long journey for them. Coming from poverty-stricken backgrounds, just getting the kids to have enough energy to run around the field was a triumph. Danone not only made sure they get the nutrients and supplements their little bodies craved and deserved, but that they become part of a world community and gain a sense of achievement and pride."
MySchool MyVillage MyPlanet
Nurturing healthy living and eating habits from a young age is also at the core of retailer Woolworths' MySchool MyVillage MyPlanet initiative, which supports more than 3 000 schools located in rural KZN, Eastern Cape and Free State, as well as peri-urban areas in Mpumalanga, Limpopo and other provinces.
Pieter Twine, general manager: Loyalty and MySchool, says they work with communities and the government to ensure their healthy lifestyle initiatives – which are mainly based on nutrition upskilling – are implemented and sustained.
"We have a 360-degree approach to wellness, and this includes learner talks, parent talks and community engagement. We have about 22 dieticians across the country who visit schools to present lessons to parents in group sessions," says Twine.
It starts with planting herb and vegetable patches in schools to help supplement food from the government's National School Nutrition Programme. Teachers and pupils are taught about growing organic produce in healthy ways that are complementary to their overall diet. Adds Twine: "We work with government to make it correlate to what they are taught in school. To help change eating habits for the better, we use practical ways to impart knowledge, such as industrial theatre productions and experiential lesson presentations to help children – and teachers – gain real practical 'green' knowledge."
Gwen Nkosi, a teacher at Woolworths beneficiary school Emisebeni Primary School in Mofolo, Soweto, says the introduction of the vegetable garden has helped foster a sense of ownership, protection and pride in pupils and the community.
"Woolworths has helped establish a sense of togetherness with the garden. Not only do we as teachers and learners receive lessons on healthy lifestyles and planting and caring for our produce; we also give practical lessons to learners, and here they get the opportunity to go to different outlets and pick vegetables so that they can identify as well as compare what they have in the garden with what they see in the shops.
"Parents sit with us for training and help care for the garden, especially during the holidays when schools are closed. They know that they also benefit from the surplus which helps expand our nutritional programme beyond the school gates.
"The children's participation in school lessons and activities has grown incredibly since this initiative started. The produce has made a huge difference; even their skin is glowing from health and what they learn outside is incorporated with the curriculum. They learn by play and the results are visible," enthuses Nkosi.
MySchool National Teacher's Day 2016 Award winner Phumla Matomela from Emafini Primary School in Dwesi, Eastern Cape, also gives a clean scorecard to the fresh produce initiative that has seen learners from the school go from lethargic children to raucous, curious minds.
"A hungry stomach can't concentrate; and when the children eat they become vibrant," she says. "If this food wasn't here, I don't think these kids would be able to cope. The food encourages them to come to school and this helps us as teachers, parents and the community see a marked difference."
The school has many children from neighbouring villages and informal settlements on the outskirts of Dwesi, such as Izinyoka and Westville, whose attendance, concentration and grades have since improved. Between the education department's involvement and the Woolworths CSI, Matomela is satisfied that the children's future is looking less bleak with every harvest.
Root to Grow
The SPAR Group uses the Root to Grow programme model to do their bit in the fight against chronic malnutrition in communities. The programme points out that "a garden teaches a child about the delicate balance between living and surviving, through a hands-on relationship with another living organism". "For many children, there is no way they can relate the food they see in bottles, packets and jars, with soil, sunshine, ripeness and satisfying activity."
This is one of the reasons that the SPAR Group believes in the credo that you "give a child a plate of food and feed him for a day; give him a handful of seeds, and feed him forever", says SPAR Western Cape executive Claudia Michel.
Changing a person's eating habits, something that has been ingrained since they can remember, cannot be achieved through theory and threats, but only by making it part of their everyday lived experience.
Explains Michel: "SPAR Sustainable Food Gardens came into being in late 2014. Once we have decided on the beneficiary we first try and establish a link with their local SPAR store. In conjunction with Root to Grow we then establish a garden at the school from scratch: landscaping, fertilising and bedding the school grounds.
We then support the school for a 12-month period in terms of teaching them how to maintain their garden and teaching them all they have to know with regards to the growing of vegetables. The aim is then for the school to become self-sustainable in growing their own vegetables, which they then supply to their own school kitchen with the long-term goal of selling their surplus vegetables to their local SPAR."
The initiative targets disadvantaged schools in the entire Western Cape area and is based on the need in their local SPAR communities. "We aim to develop three to four gardens a year," she says.
One of the success stories so far is a thriving garden in the heart of Khayelitsha's I-section – Lwandle Primary School. They ventured into the programme as a way to "start exploring into more sustainable projects that could incorporate an entire community".
In a statement, the school said: "We feel that we are not only just feeding the communities but also teaching the future to feed itself. For the first 12 months, the vegetable garden is sustained in conjunction with Root to Grow and then afterwards it becomes self-sustainable.
The school and the community take over and look after it themselves. We would definitely encourage more schools in other communities in Khayelitsha to seek such initiatives as it is more than about a garden, it teaches the community healthy eating habits and there is an entrepreneurial element to it as well."
---