Globesity: Weighty Worries
---
Labelled 'globesity' by the World Health Organisation, the escalating obesity epidemic is compromising the health of millions across the world, including many South Africans, writes Penny Haw.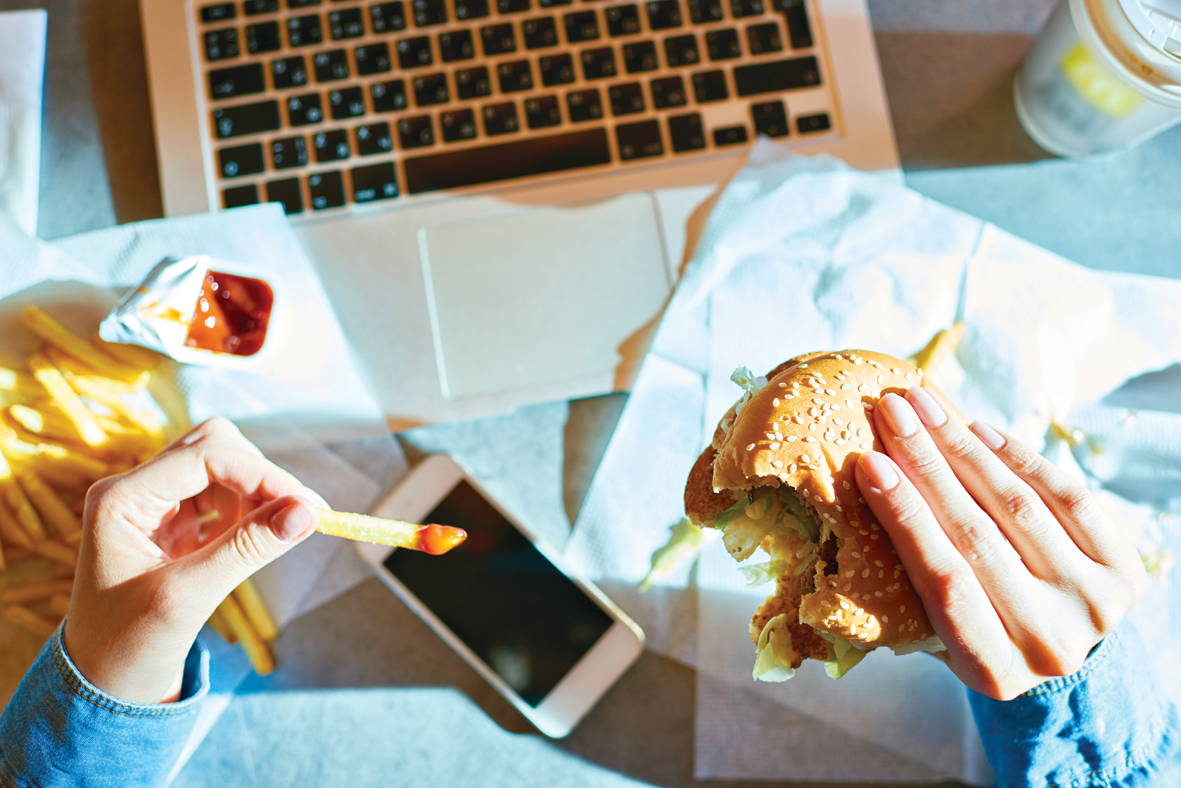 Image: Unhealthy lunch
Statistics from the World Health Organisation (WHO) indicate that, of the global population, 15% of women and 11% of men aged 18 and over were obese in 2014. The same study classified 26.8% of adult South Africans as obese. The Heart and Stroke Foundation South Africa (HSFSA) says as many as 40% of South African women are obese, which means they have a body mass index (BMI) equal to or greater than 30kg/m2. (The WHO's recommended/normal BMI range is 18.50-24.99kg/m2.)
Indeed, the world is round. Worse still, it's getting rounder. Worldwide, obesity has more than doubled since 1980. Research published last year by British medical journal The Lancet found that global obesity has increased by 167% since 1975 – and, says dietician Gina Fourie of Consultant Dieticians, Cape Town, it continues to rise.
"What's also worrying is that it's no longer just an adult problem: a quarter of all young girls (between the ages of two and 14) are overweight or obese," she says. Boys in the same age group aren't faring much better: one in five are overweight or obese. The troubling truth? Overweight children often become overweight adults.
Why the swell? 
There are, says Fourie, many reasons for the world's expanding obesity problem; most obese people reach unhealthy proportions because of a combination of things. Lifestyle is a major factor.
Food, particularly "hyper-palatable" and highly engineered junk food that is high in unhealthy fats, sugar and salt, is easily accessible at all hours from a glut of outlets, from supermarkets, restaurants, corner cafés and mobile units to petrol stations. This type of food is often cheaper and faster to consume than more nutritious options.
We eat and drink too much and exercise too little, which is further facilitated by our fascination with digital devices.
There is also evidence that lower-income groups have a higher prevalence of obesity. "Poor people have been reported to buy the least expensive foods that are gastronomically the most filling and energy-dense," says the Department of Health's 2015-2020 strategy document for the prevention of obesity in South Africa. In addition, the department highlights excess sugar and alcohol consumption as reasons for weight gain among South Africans.
"It is important to understand the interplay of factors between genetics and risk factors associated with lifestyle in the onset of obesity," says the CEO of the HSFSA, Prof Pamela Naidoo. "Consuming food in excess or consuming large quantities of food with little nutritional value, combined with a lack of physical activity, are often drivers of overweight and obesity."
Obesity also has a strong genetic component, says Fourie. Other reasons include leptin resistance, insulin imbalance, the use of certain medications and psychological issues. Some studies indicate microbes inhabiting our digestive tract – the gut microbiome – are also linked to corpulence.
Why worry?
Obesity is associated with several diseases, including Type-2 diabetes, heart disease, stroke, hypertension (high blood pressure), musculoskeletal disorders (especially osteoarthritis) and some cancers (including endometrial, breast, ovarian, prostate, liver, gallbladder, kidney and colon).
In addition to childhood obesity being associated with an increased likelihood of obesity, premature death and disability in adulthood, obese children experience breathing difficulties, increased risk of fractures, hypertension, early markers of cardiovascular disease and insulin resistance.
No less worrying are the social and emotional effects of obesity. These include discrimination, lower wages, reduced quality of life and susceptibility to depression. Add to these the individual and collective healthcare costs of obesity – including outlay for medical aid and drugs, and the cost of things such as absence from work and higher insurance – and it's clear: obesity costs on all fronts.
What's the solution?
More South Africans need to be educated about the risks of unhealthy lifestyles and being overweight, says registered dietician and physiologist for the HSFSA, Gabriel Eksteen. "If the public does not believe that they need to eat healthier and exercise more, any strategies that address these issues will be unsuccessful," he says.
The Department of Health's goals in this regard include increased physical activity by 10%, reduced consumption of alcohol by 20%, and reduced percentage of people who are obese and/or overweight by 10% by 2020.
The reality is there is no simple solution to globesity. It's a complex crisis that needs a multifaceted approach. This is true of battling obesity as an individual too. While it is preventable, obesity is neither easily avoided nor easily overcome by many obese patients.
The mainstay for treating obesity is reduced intake and increased physical activity. But, says Fourie, for some obese patients this is not sustainable. "By the time obese patients consult us, they've often tried several solutions. They might even have succeeded for a while," she says. "But, particularly because the causes of obesity are multiple, the mismatch between intake and output is a pathology, which makes treating obesity without help from healthcare practitioners difficult for individuals."
There are prescription and non-prescription medicines available for weight loss, but they have side-effects and are not suitable for all people. It's advisable to get professional advice before taking them. Obesity or bariatric surgery can also help obese people to lose weight by changing the way the body digests and absorbs food.
Patients without weight-related complications whose BMI is greater than 40, and those with a BMI of between 35 and 40 and weight-related complications including diabetes, hypertension, raised cholesterol, sleep apnoea and polycystic ovarian syndrome, are candidates for surgery, says endocrinologist Dr Wayne May.
"Ideally, patients (contemplating surgery) should have tried to lose weight before by following an appropriate diet and exercising," he says. "Surgery shouldn't be their first option. It is a big investment that is not covered by all medical aids, and often only by higher plans, and patients need to be well prepared. This preparation needs to involve a team comprising an endocrinologist, dietician, psychiatrist/psychologist, biokineticist, and eventually a surgeon."
Prepping for surgery
The ideal candidates for obesity surgery and the ones who do the best following surgery are the ones who are the best informed, says dietician Gina Fourie of Consultant Dieticians, Cape Town. "When patients do their own research, it indicates a good level of motivation, autonomy and self-efficacy, which are good characteristics for long-term success," she says.
"Of course, they are not immune to misinformation, but it is encouraging to see patients being proactive. They generally ask more questions, become well-informed and highly motivated, and end up with realistic expectations."
---