Home » » Giving The Boardroom The Green Light
Giving The Boardroom The Green Light
---
While there's often much talk about environmental issues in boardrooms, they're not always as green as they could be, writes Sungula Nkabinde.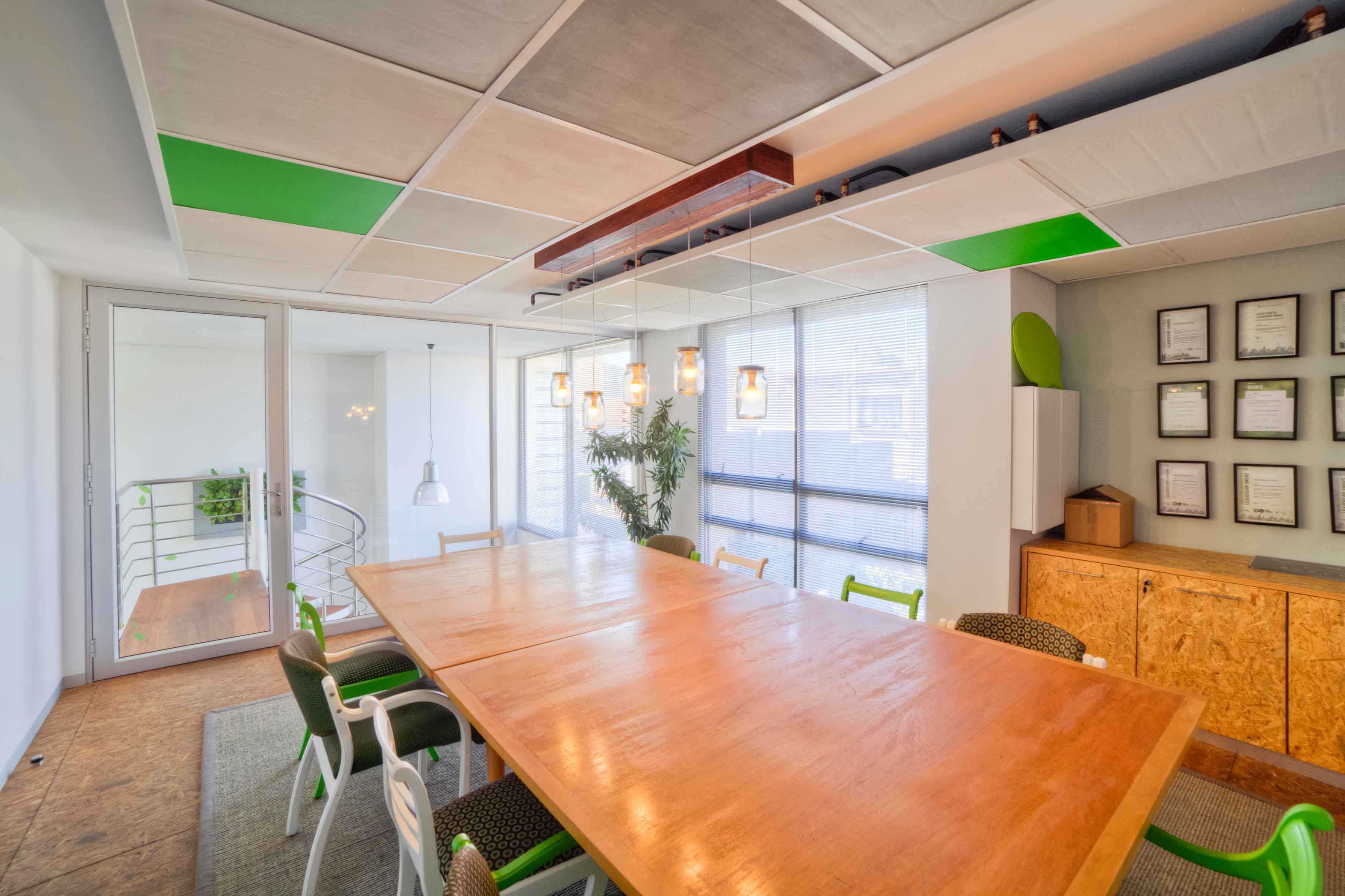 Image: An energy efficient boardroom
Something that typically happens with boardrooms and meeting rooms is that they're occupied for a short while, but, when everyone leaves, lights and equipment are left running because nobody assumed or was given the responsibility of turning them off. This is especially wasteful when it comes to air-conditioning systems which operate the entire day in rooms that are only occupied for a few hours. Fortunately, as corporate South Africa has become determined to make buildings more eco-friendly, measures are being taken to reduce the use of energy and improve the carbon footprint of boardrooms.
Ideally, says Stefan Mayer, managing director of Corporate AV Integration, the process of greening a building begins before a brick is laid. Erecting an environmentally friendly building requires thinking about its position in relation to the sun. This determines whether the inhabitants will be able to make use of natural light, and enjoy views and the warmth of the sun and cooling effects of natural shade and wind.
The simple consideration of the location and design of a building make it possible to save money and energy. "Then, once the building is in place, you can start looking at technologies to further save energy consumption and reduce your carbon footprint," says Mayer.
Among the energy saving systems available for meeting rooms are those that allow you to automate the opening and closing of blinds according to the position of the sun. The technology closes the blinds automatically when the sun is too bright for comfort or to effectively operate equipment. When the sun is overhead and it's suitable to let in natural light, the blinds open automatically. This not only helps save energy by making increased use of natural light, but, because natural light is by and large more pleasant than artificial light, it also provides increased comfort.
Other intelligent systems automate meeting rooms via technology that monitors whether the spaces are in use or not. Booking systems for meeting rooms can be linked to emails and calendars to ensure that lights, air-conditioning and projectors are switched on only when required. Systems can also be programmed to heat or cool rooms before or during scheduled meetings.
How green is your boardroom?
"There is an automated timer switch in our boardroom that's set to turn the air-conditioning off every two hours," says Manfred Braune, executive director and chief technical officer at the Green Building Council of South Africa (GBCSA). "This is a useful way of minimising energy consumption in boardrooms where air-conditioning can be left running unnecessarily."
The GBCSA boardroom is also equipped with block-out blinds that operate via remote controlled motors, which are powered by a discreet battery and solar set that doesn't require additional cabling. Made from a special see-through-one-way material, these blinds are an effective way of limiting glare and heat ingress while still providing light and views, even when they're closed.
Greening the boardroom is not however, just about maximising lighting and turning off equipment when you leave the room. According to Mayer, corporate audio-visual integrators and vendors are being called upon to help companies meet the demands of standards such as the Leadership in Energy and Environmental Design (LEED), which is an international metric for green buildings.
There are, he says, several things to consider when evaluating the audio-visual equipment. "Audio-visual systems are generally greedy electricity guzzlers. Some manufacturers have taken steps to make their products more energy efficient."
Certified products are starting to enter the corporate audio-visual market, but are not yet commonplace, which means you need to pay careful attention to what you choose. Mayer recommends you ask questions about power consumption of screens, projectors and other gear before you sign an order – it is also important to consider the kind of power management features available in the products you choose. Truly green audio-visual products are, says Mayer, energy efficient while in use, and can be configured to switch off or go into standby as appropriate.
It's also prudent to examine the credentials of the manufacturers of the equipment you're thinking of purchasing. According to Mayer, responsible manufacturers conform to environmental standards such as ISO 14001 and 14066.
"These systems are not cheap, but the upfront investment translates into lower costs in the future," he says. "Once they're in place, such systems help to drive cost savings through power efficiency and reduced wastage."
O! green world
The kind of furniture and fittings used in a boardroom can also help advance a company's green objectives. Technological progress has made it possible to develop a greater range of products using natural materials.
"Cork (sustainable because it is harvested without harming the tree) is well-known for its anti-microbial properties. It is also water resistant, does not contain polyvinyl chloride (PVC) or formaldehyde and can be used for flooring, insulation, acoustic wall coverings (as pictured above) and countertops. Bamboo is another trendy green option that can be used for floors, walls and blinds," says Brigitte Hills, owner of Port Elizabeth-based interior design company, Brigitte Hills Interiors.
A further trend in corporate green décor is the up cycling and recycling of furniture. "Instead of going out and buying something that is mass-produced, people are looking for old pieces and rejuvenating or repurposing them for use in the workplace," says Hills. Twitter is well known among workspace designers as a corporate pioneer in recycling office furniture. Its head office in San Francisco not only incorporates reclaimed and re-used materials in its offices and meeting rooms, but also boasts a reception desk made from wood that previously lined the lanes of a bowling alley.
Paint is another item that requires careful selection when it comes to eco-friendly design. Fortunately, there are, says Hills, many paint products available with low or zero volatile organic compounds (VOCs). These are safer for humans and are generally not produced using heavily polluting manufacturing processes.
Green-eyed monster
Greening the boardroom is not only the responsible thing to do, says Braune: it's also a good place for companies to show off their greening efforts when executives and senior management from other companies visit.
"Having a green boardroom is a fantastic opportunity to show prospective clients your green credentials," he says. "And, further to the eco-friendly equipment, furniture, fittings and systems used in this space, you can show off other green projects, such as green building certificates from the GBCSA and similar recognition and awards from the industry."
While the short sightedness of some company executives can hinder the process, Mayer says the biggest obstacle to developing green boardrooms is budget. Typically, going green is an ideal that large corporates strive for. Small to medium businesses seldom put their efforts and finances into greening their spaces simply because it is such a costly endeavour.
Indeed, the rands-and-cents discussion about the impact of green buildings on a company's balance sheet is high on the agenda of executives says Craig Hean, managing director of commercial property and investment company JLL Sub Saharan Africa (SSA).
"It's not just about the need to care for the environment. In the case of many green buildings developed locally, the cost-benefit is still being tested because they have only been operating for four or five years and a (longer) period of time has to pass before you can start analysing the cost-benefit dataset," he says. "But, in terms of global corporates and what they are looking for, the move to sustainable green buildings is definitely driving decisions. It's also about being able to attract and retain staff, based on your green footprint."
Green, green grass of home
Indeed, brick and mortar notwithstanding, for some, the biggest factor in being green is the attitude of individuals. "One of the biggest environmental impacts comes from people driving their cars to the office," says Achim Klennert, managing director of insurance company, Hannover RE. "The other thing that I find fascinating is the number of people who prefer to close the blinds and use the lights. We've probably got the best weather in the world in South Africa, but people still insist on using lights during the day."
---