---
Positions Vedanta for a positive outlook.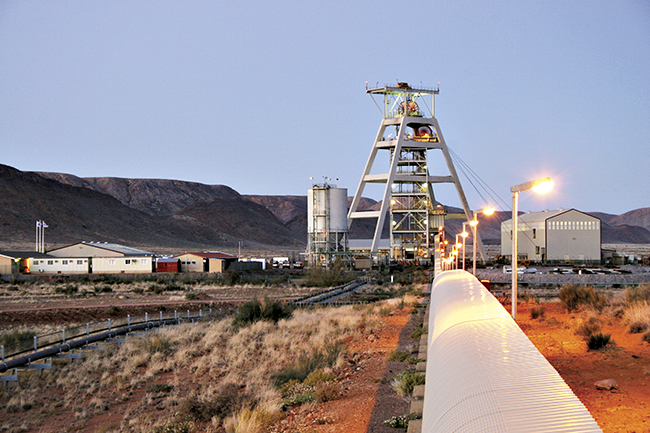 Image: The Deeps Shaft at Black Mountain Mining, in the Northern Cape
Although the general outlook for mining has been rather negative, the zinc market has been able to distinguish itself from most other commodities, as it is forecast to be structurally short in supply with concentrate in deficit this year. This is reflected in the 70% increase in the price per tonne, to over $2 500 (R35 500), this year to date.
The rising price is due to the fact that a number of the larger zinc mining operations around the world have either closed in recent times or are nearing the end of their economic lives. Moreover, the zinc price was until recently quite depressed, due to the global commodities downturn. This means that there are few new zinc mining projects in the pipeline and that little has been done in the way of exploration, which means the current price strength is expected to continue for the foreseeable future.
Positive position
According to Deshnee Naidoo, CEO of Vedanta Zinc International and Copper Mines of Tasmania, the current positive situation and outlook positions the company extremely well. This is due to the fact that although Vedanta has an operation in active closure – Lisheen in Ireland – it also has a new one in development. This is the Gamsberg Project in Northern Cape Province.
"When the zinc price was depressed, rather than stop Gamsberg, we chose to slow the project somewhat. This actually proved extremely beneficial, as the project team used the opportunity presented by this to review every aspect of the original plan," she says.
"This resulted in us shaving some $200m (R2.85bn) off the initial capital estimate of $600m (R8.5bn), by re-engineering certain aspects, changing the execution philosophy and deepening our partnerships with key contractors."
Naidoo suggests that these actions, coinciding as they have with the strengthening of the zinc price, means that this project's economic viability has been hugely enhanced.
"We have a new mine that will more than replace the production we have lost at Lisheen and will help to strengthen the position of our parent, Vedanta Resources, as one of the world's largest zinc producers."
Gamsberg begins
She explains that Gamsberg is being developed on one of the largest known zinc ore-bodies in the world, which was first discovered some 40 years ago. This mine has a reserve and resource of over 200Mt and an estimated life of mine of 30 years.
"Phase One will comprise an open-pit mine and a dedicated plant, producing 4Mtpa of ore and 250 000tpa of zinc in concentrate. First production is expected by mid-2018 and the pre-work done to access the ore body has already seen some 12 million tonnes of ore removed to date."
Naidoo adds that Phase Two – which could start as soon as 2020, depending on market conditions – will require a further investment of  $300m – $350m (R4.3bn – R5bn) and will take production at the facility to 8-10Mtpa of ore (400 – 450Mtpa zinc in concentrate).
"Again, depending on market conditions and in line with South Africa's beneficiation objectives, we may well have to consider building a dedicated refinery at Gamsberg for Phase Two. An interesting and critical aspect of the Gamsberg project is that it is being developed in a designated biodiversity 'hot spot' – one of seven in South Africa and one of just 35 in the world."
"This has required extensive engagement with key stakeholders, including government, NGOs and landowners, resulting in a unique biodiversity offset agreement. Vedanta is working in close partnership with the International Union for the Conservation of Nature (IUCN), the world's oldest and largest environmental organisation, to ensure effective implementation of the agreement. Furthermore, we aim to ensure that we go 'beyond compliance' where possible," continues Naidoo.
Vedanta points out that during the construction phase of Gamsberg, there will be some 1 000 – 1 200 jobs and, once operations start, 850 – 900 jobs.
"In a region that has been largely overlooked in terms of infrastructure and development, and where mining has been in decline, Gamsberg's economic impact – direct and knock-on – will be enormous.
"Ultimately, our vision for a southern African zinc mining/refining complex, linking BMM Gamsberg and Skorpion, coupled with our ongoing exploration work in the region, positions southern Africa very well for the future."
---