Friendship, Faith And Fun
---
Bob and Eucharist Mabena on what makes love last.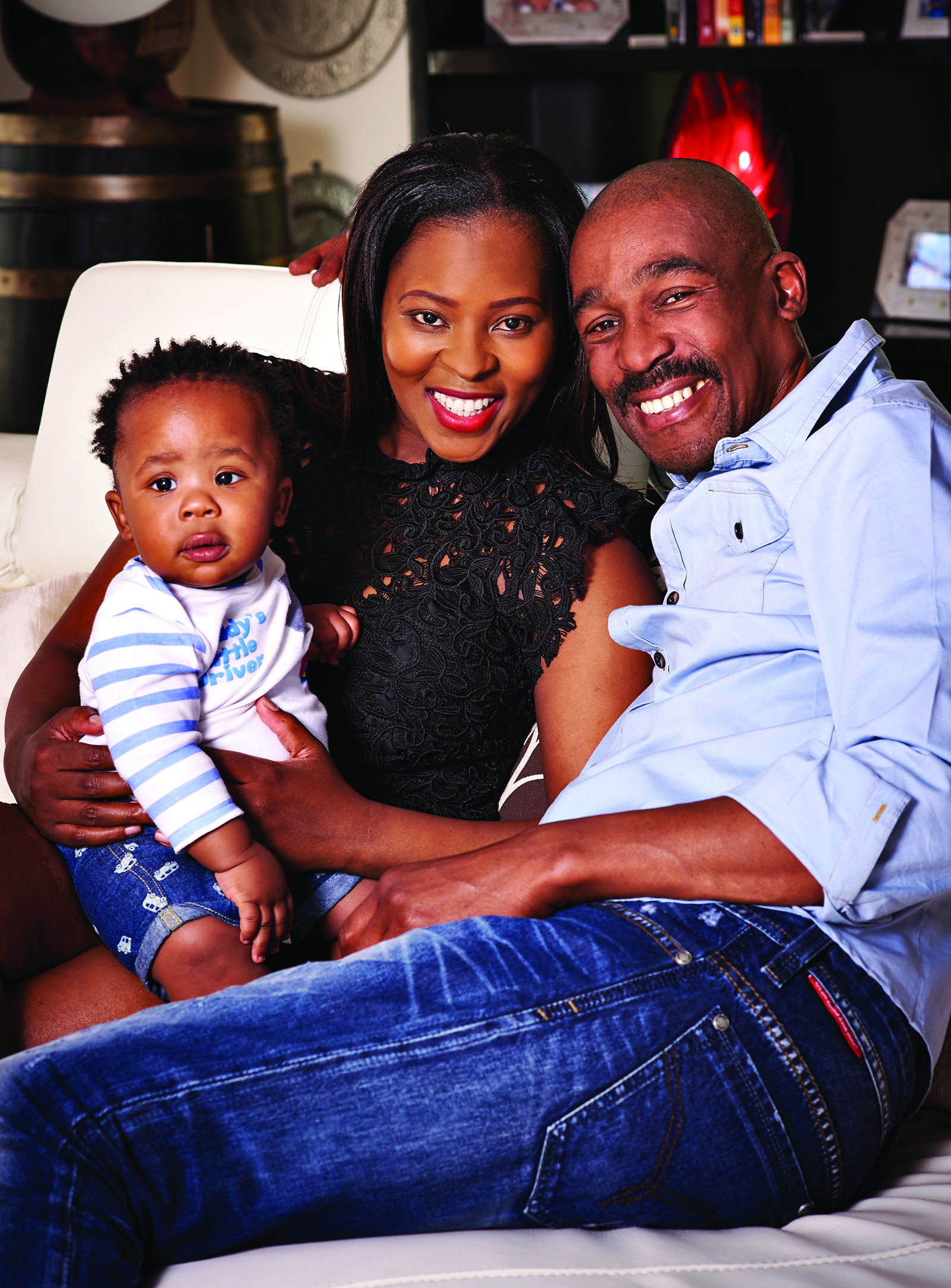 Image: Bob and Eucharist Mabena
Even the best relationships can run into difficulties from time to time.
Whether you're working long hours, adjusting to the changes and challenges children bring, or keep arguing about money, you're not alone.
Louise Ferreira speaks to radio host Bob Mabena and his wife, Eucharist, about how they keep their relationship healthy, and asks two professionals for advice
Bob Mabena (47) has worked in radio for over two decades. He hosts a popular weekday evening show on Kaya FM, and has his own media consultancy. His wife, Eucharist (36), works at MRC Media in Sandton, "basically running the office".
It was at the restaurant just outside her office building, in fact, that the two first realised they were attracted to each other. "We were friends; we still are," Eucharist says. "But we actually really hooked up at this very restaurant four years ago in August."
"The month after my birthday," Bob adds. He knew immediately that he wanted a serious relationship.
"It was the second day we started going out, and he said, 'If I could, I would put a ring on you', and I thought he was mad," says Eucharist. "I laughed it off. I actually texted him back and said, 'You're crazy, go to sleep.'"
Bob eventually proposed in January last year, and the two celebrated their first wedding anniversary this October. Their son, Elihu, is now seven months old.
When they talk about their relationship, what Bob calls "the M-word" often comes up: maturity. Clearly, it is a quality they value greatly.
"I'm three years short of 50," he says. "If I'm not mature by now…"
"Being mature really helps in relationships. I believe that when you get into a relationship, you have to put your cards on the table. Your partner has to know what makes you tick, what drives you up the wall. If that communication channel is always open, I don't feel like I'm nagging when I bring up something that bothers me," Eucharist says.
What is the most important thing for you in a relationship?
"Respect," she says immediately. "If you give respect, that's what you get back."
Bob believes that learning new things about yourself and your relationship is valuable. He hates conflict and is used to avoiding it; now he's making the effort to talk about it instead. "I'm also learning to divorce issues from people – not saying 'you made me feel this way'. So I'm getting better at communicating."
"[In an argument] I used to pack up and go, to get myself out of this environment. Now I've learnt to stay calm, to engage the issue," says Eucharist.
They communicate openly and, as such, have a trusting relationship.
"We're open, hey," says Bob. "I don't hover around my phone; she doesn't hover around hers. It gives you peace of mind."
"He knows what upsets me, and I believe he will not hurt me intentionally," Eucharist adds. "And vice versa."
Again, maturity plays a big role. "I always tell my friends I don't have to worry about my husband, because he's not a boy. This is a mature man who knows what he wants."
Fun and playfulness are a must for the Mabenas, and it's clear from the affectionate way in which they interact with each other. During our interview, they laugh often.
"Before we got our boy, we played a lot," Bob says. "He's only seven months old, so you can imagine, since the pregnancy and seven months, we haven't played all that much. He's got all the playtime in the world!"
Eucharist explains that they differ when it comes to "quite a few things". "Raising kids – okay! Our style of raising kids really differs. I've got my boy from a previous relationship, who is 10 years old, and he's got five of his own, who are grown up. He thinks I'm soft, and I think I'm the one who's really strict, because I'm the one who will get them to do it. I'm learning his style, and it's hard. I raise my kids how I was raised, and I come from a very strict background. He's more friendly."
Having children forces a couple to make huge adjustments to their lives. Dr Adele Romanis, a clinical psychologist from Johannesburg, says one of the major issues she sees in her practice is partners who don't make time for themselves as a couple. This happens especially after having kids, when the distinction between the marital relationship and the parenting relationship blurs; one example is referring to each other as Mommy or Daddy.
"The marital and the parenting relationship have to run parallel," Romanis points out.
In a country like South Africa, where the work culture is prominent, and we have to deal with traffic and long commutes, couples who then get home and have to take care of the kids are often too tired to make time for themselves or each other.
"Date night is rare, and then it's always going to the same restaurant, sitting in the same chairs, having the same conversation," Romanis says. She suggests that couples make time to do something fun together, such as ten-pin bowling or a comedy show.
Communication is one of the keys to a healthy relationship. Why, then, is lack of communication such a common complaint?
"People feel like they do communicate, because they're talking, they're having conversations," Romanis explains. "But they need to look at the effectiveness of their communication."
It is the responsibility of both parties to ensure that they're getting the message across, as well as making sure they understand what their partner is saying to them. One of the best ways of doing this is to repeat what you understood, Romanis says.
If this is a big problem and you're arguing often, suggesting that you're not communicating properly, ask your partner what it is that you're doing and saying that is unclear.
Tertia Carroll, director of FAMSA (Families South Africa) on the West Rand, has spent years observing relationships. In a marriage or long-term partnership, members of two different families form their own family.
"Too many people underestimate the enormous adjustment this brings about," Carroll says. "[Even] two families staying in the same suburb, speaking the same language, sharing the same ethnic background, still constitute two cultures. The partners in the new family need to decide what they will 'keep' from each family of origin and what they will adopt from other role models in society, or create their own norms and values."
If these decisions are not made consciously, as pressure increases from careers and children, and lifestyle choices, conflict may arise. Carroll suggests pre-marital counselling and marriage enrichment as ways to prepare for possible future conflict.
What about people who struggle to trust their partner?
"When there is a shift in emotional distance, or in behaviour, people are very good at picking it up," Romanis says. "Mistrust also comes from the other person's need for reassurance.
"Trust issues are often the result of trust difficulties in a previous relationship. You definitely should take care of unfinished business before moving onto the next relationship, otherwise it's unfair on the new person." In this kind of situation, mistrust also tends to escalate more quickly, even when the other partner has displayed no unusual behaviour.
At the same time, you should trust your gut instinct, Romanis says. If something doesn't feel right, you should address it. "For example, you can say, 'I feel some distance; is there anything you'd like to bring to my attention? I feel like you've pulled away.' It's important that you say this is how you feel, rather than just accusing your partner of pulling away."
Finances can be a big problem, as people often don't want to talk about money. Romanis suggests having a regular "financial date night" to discuss it, but not the week before or after you get paid.
"Money has a lot of emotions attached to it, a lot of power and control," she says. "So it's really about being upfront and having the hard conversations, because, at the end of the day, the bills still have to get paid."
She points out that different people handle money in different ways. Some are spenders, some are savers; some people are good at sticking to a budget, others are not.
"A lot of the time the saver will take control and restrict the other person's spending, which can be quite frustrating. It feels like they're being parented." She adds that spending is important too, and that managing your finances doesn't have to involve trying to hang on to every cent.
Ultimately, Romanis says, relationships should be fun. "They're work and they're serious, but they should also be fun."
Top tips for a healthy relationship
Tertia Carroll, director of FAMSA West Rand, shares 10 tips for keeping your relationship healthy.
Make time for each other.
Talk about everything, good and bad. Never rely on rumours or assumptions.
Learn each other's love languages. These are: words of affirmation, physical touch, gifts, quality time, acts of service.
Be the "safe place" for your partner.
Loyalty above all is key to a good marriage.
Seven areas on which couples must agree are: finances, relating to in-laws, friends, parenting children, sex and intimacy, recreation and religion.
Forgive easily.
Your partner/spouse is your first priority. Friends, family, children, careers are seasons in your life. Your spouse will be there when you are old, if you cherish your relationship.
Be your spouse's best friend: honest, transparent, dependable, trustworthy, fun to be with.
Maintain weekly date nights. Away from the family. Alone. Intimate. If you don't build your relationship, it will lack in the inevitable storms. What you put in is what you get out.
---