Home » » Food Security – A Consumer's Perspective
Food Security – A Consumer's Perspective
---
What do we mean by food security, and why is it important in South Africa? Adam Oxford looks at the issue.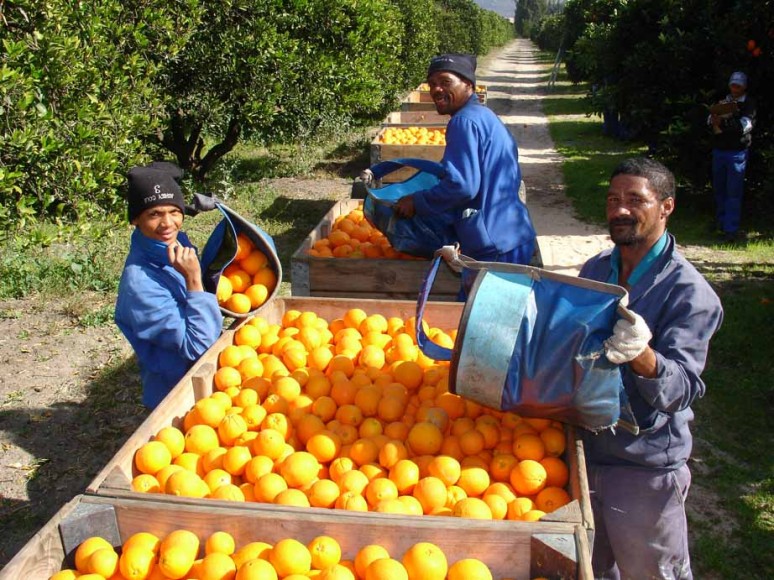 Image: Citrus farmers
There's a simple definition for the term "food security", which was put forward at the 1996 World Food Summit and holds true today. Food security exists "when all people, at all times, have physical and economic access to sufficient, safe and nutritious food to meet their dietary needs and food preferences for an active and healthy life".
Unless you're following a particularly unusual and expensive diet plan, it's hard to argue with that – or disagree that everyone should have food security. After all, the right to "sufficient food and water" is enshrined in Article 27 of the South African Constitution and Article 25 of the United Nations Declaration of Human Rights.
Of course, if food security were as simple as that, it wouldn't have taken nearly 30 years to agree a definition. And if it were that simple, and we believe in food security so much as to enshrine it in the ultimate law of the land, why is there hunger?
South Africa is more or less self-sufficient when it comes to food; we're a net exporter of agricultural products. But according to Stats SA, 13.1million percent of the population are "vulnerable" to hunger – ie living in a state of food insecurity.
Globally, the picture is even worse. A study by the Universities of McGill and Minnesota calculated that the world already grows enough to feed 10 billion people – more than the predicted population peak in 2050 – yet the United Nations World Food Programme (WFP) reckons almost a billion go hungry every night.
Food security is an enormously complex subject, and the factors that influence it are little understood by most. As a study into the subject for the British Journal of Rural Affairs puts it, people are uncertain "about what food security means, about the causes of problems in the food system, and about who should be responsible for ensuring access to affordable food".
Beyond broad brush strokes
For many consumers in middle-class South Africa (and abroad), food security is a highly abstract notion. Improved farming methods, vast global supply chains and decades of increasingly liberal trade mean that out-of-season vegetables are almost always available on the shelves of any major supermarket. And those same supermarket operations have consolidated and grown to the point where they can take advantage of huge economies of scale to keep prices competitive.
Even faced with the worst drought in 35 years, when food prices have gone up by 12% over the last year, shelves haven't gone empty and there are no reports of starvation in Sandton. Indeed, café culture is booming – coffee shops have seen a 7.1% increase in income since 2014.
We may pay attention to the big issues around food production, such as drought, climate change and bugs that are becoming resistant to genetically modified plants, but how many suburbanites are aware that a rare and devastating army worm infestation has hit maize farms in Zambia and Zimbabwe this season, and has reportedly wiped out R400 000 of crops on at least one Pretoria farm in South Africa too?
Even in the poorest communities, there are some questions about exactly what the issue is. Stats SA produces figures that show more than one in 10 households have problems with hunger, but the UN Food and Agriculture Organisation (FAO) publishes an annual State of Food Insecurity in the World report which measures levels of malnutrition. It puts South Africa in the same "very low" bracket as the USA, all of Europe, Russia and Australasia. In the same report, it's worth noting that Namibia, Malawi, Zambia and the Central African Republic are in a global class of their own, with "very high" levels above 35%, although there is no data for the DRC, either of the Sudans or Libya.
For many people not living with hunger, food insecurity may be conflated with actual malnourishment and starvation, but going hungry, even just for a couple of days a week, is clearly a definition of food insecurity by the official terms.
Understanding our food supply chain
The goal, of course, is 100% food security for all, both within South Africa and outside of it, so what are some of those complexities that prevent it from happening? International trade and tariffs have a role to play, and currently all eyes are on the USA as new President Donald Trump promises an era of higher import duties and protectionism.
Trade deals are rarely the subject of after-dinner conversation, although South Africans may be more clued up than most, following extensive reporting around the African Growth and Opportunity Act (AGOA) negotiations with the USA. The South African government was forced to accept US poultry as part of the negotiations to keep our own access to US markets open, but less than a year later, Rainbow Chickens – the country's biggest chicken farmer – has announced it is retrenching 1 350 jobs in KwaZulu-Natal. Cosatu has warned that it foresees a jobs "bloodbath", with up to 50 000 more employees' livelihoods on the line.
In January, ANC secretary-general Gwede Mantashe went as far as pleading for the state purchase of poultry farms which were uneconomical. Employers' organisation SA Poultry Association and the Food and Allied Workers Union displayed an unusually united voice when they co-hosted a march in Pretoria to try and save jobs. The fear is that cheap food today will cost jobs and productivity, which could in turn push up prices in the future if exchange rates change in favour of the importers and we have no local farms left to keep costs down.
Supply chains and food security are complex, then. And to make things worse, they are very different in South Africa from what they are elsewhere on the continent.
Vuyani Jarana, business chief officer for Vodacom, has been involved with the development of an education and marketing online platform for farmers in East Africa, which he's currently working to bring to South Africa. The challenge, he explains, is that, while supply chains are reliant on smallholders elsewhere on the continent, here there has been little effort to reach them, because the majority of food comes from a relatively small number of large farms. Many retailers want to source more from smallholders, but there's a lack of knowledge and capacity on both sides to make that happen.
In addition, as we explore elsewhere in this supplement, the historical legacy of apartheid has left practical issues over and above land reform. It's not just about appropriation of land; in the past, white farmers were overwhelming beneficiaries of infrastructure investments, and division of land in the homeland Bantu areas was often arbitrary and uneconomical.
The good news is that South Africa does have plans to improve food security for all, and boost the economy at the same time. Agricultural development is a key pillar of the National Development Plan (NDP), which aims for a million new jobs in the sector and is the basis for investments such as the Agri-parks project.
The question that remains, however, is whether having a plan is enough and whether clear action is being taken.
---