Home » » Focus On Our Future Leaders
Focus On Our Future Leaders
---
With the lion's share of CSI spend being poured into education, it is important to assess whether it is hitting the mark and making a real difference to the access of quality education. Puseletso Mompei reports.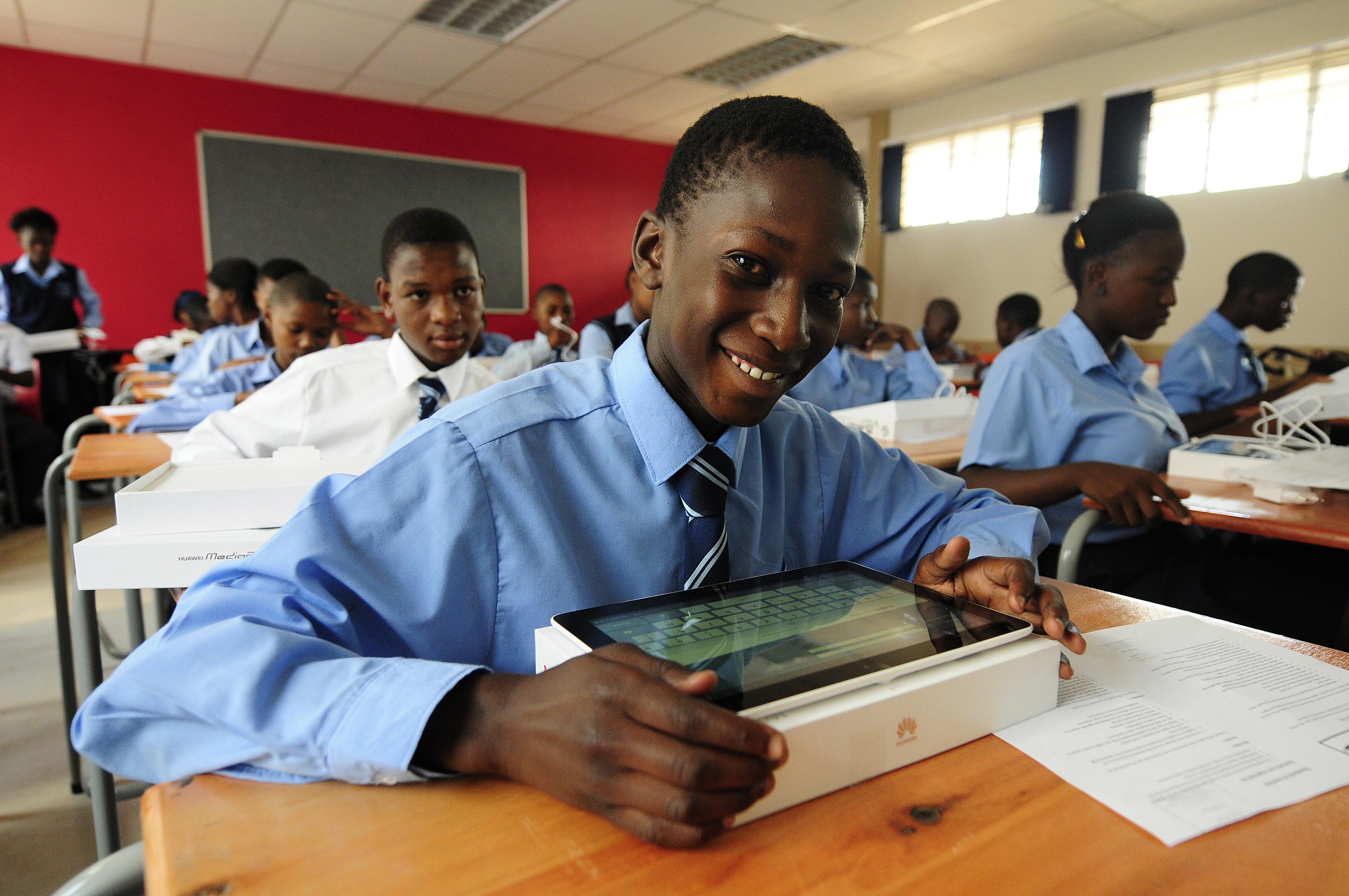 Image: Pupils work on their tablets on at Boitumelong Secondary School in Tembisa in Johannesburg, South Africa. (Photo by Thulani Mbele/Sowetan/Gallo Images/Getty Images)
Education is an integral aspect of South Africa's development agenda. As a country faced with many challenges when it comes to educating its youth, the sector is mostly driven by government, with a sizable portion of backing coming from other players such as non-government organisations (NGOs) – as well as the private sector, in the form of corporate social investment (CSI).
CSI consultancy Trialogue estimates CSI spend for 2015/16 at R8.6-billion, with the bulk coming from companies in the mining, retail and financial services sectors. Education receives nearly half of that total, ahead of health, social development and food security.
Next Generation Consultants  director Reana Rossouw says that with the high proportion of corporates in South Africa dedicating almost 80 per cent of their funding to education,  most of these funds are making a difference, especially in rural areas or mining towns.
Trialogue's 2016 CSI Handbook breaks down education spend according to level, and outlines that tertiary and further education training got 29 per cent of total education funds each; 22 per cent went towards general education; early childhood development (ECD) received 17 per cent; and adult education received 3 per cent.
Direct and indirect  educational support
Rossouw points out that most CSI projects tend to focus on quality of education – rather than access to education, which is a vital component in a developing country such as ours.
She explains that access to education is mostly advanced through ECD interventions, where companies assist communities with services such as  crèches and day-care centres.
The majority of interventions are those addressing whole-school development, teacher interventions, school administration and management, and infrastructure support in the form of libraries, computers, literacy and science laboratories, in addition to curriculum development, additional classes and other related aspects.
Considering the fact that structural and systemic issues – such as the high drop-out rate or unqualified teachers – persist, Rossouw asserts that CSI in essence can only address the outcomes of a failed educational system and not fix it. It is also important to understand that CSI expenditure cannot be compared to government spend.
"Corporates cannot outspend government, but they can focus and add value where government fails to address issues," she says. "Whether these are to leverage the infrastructure of companies to deliver textbooks or provide study material, or to build and refurbish schools.
This is especially impactful when these interventions take place in the geographical area where corporates are based and in the areas where they operate  – indirectly, the employees and customers also benefit from improved infrastructure in the area."
Quantity versus quality
"The strongest impacts are felt in more specialist interventions," explains Rossouw. For instance, mining company South32 built a science and maths centre in Witbank – without this type of support and centre, children from the surrounding areas would never have had the opportunity to study and excel in these subjects.
Rally to Read, supported by corporates such as Bidvest and the Kempston Group, also takes a specialist angle. The initiative is built on a unique model, with a specific focus on literacy. Rally to Read allows a corporate to purchase a library box and teacher training packages, and join the organisation on a rally weekend to personally deliver the donations to the schools. The rally convoys travel to underserviced rural areas, where resources are severely limited and learning happens under the most challenging circumstances. Sponsors deliver material personally, and therefore witness where their money is invested. They also get the opportunity to meet the beneficiaries.
IkamvaYouth in Cape Town is a non-profit organisation supported by Capitec and the Western Cape Government. The organisation focuses on the empowerment of youth through education, e-literacy training and career guidance. Their funding goes towards sponsoring learners' participation in all programmes and tutoring sessions; a portion is also spent on co-ordinating volunteers and school feeding schemes.
Monitoring and evaluation
With these and thousands of other interventions being rolled out across the country, understanding the extent of the impact is important. However, Rossouw says that in current assessments, most of the focus is on quantitative impact: for instance, looking at the number of children, teachers, schools, pass rates, participation rates, and how this translates in terms of rands spent.
"What is required is a focus on measuring impact more qualitatively," she says, "but this will require much better monitoring and evaluation systems and processes, in addition to clear, descriptive and measurable indictors such as credible baseline data and the skills, competency and capacity to conduct impact studies over a set time and on a specific scale."
She points out that currently organisations tend to have a narrow focus on their own interventions, which then means that impact is seen in isolation and no one has the full picture. Additionally, impact is measured per intervention, however, the limitation of this is that most programmes are implemented over a 12-month period, as well as funded over 12 months and measured over 12 months.
"Logic will tell you that it is impossible to measure impact in these 'neat' annual cycles," Rossouw says.
 Partnerships and collaboration
Addressing education holistically with a combination of interventions is required.
"What we also find is that so many corporates fund different types of science and maths programmes, which is a lot of duplication and wasted effort," Rossouw says. "And they all want to focus on specific schools, which means some schools get 'over serviced' while others are ignored."
Similarly, the Department of Education and the larger community stakeholders must support these interventions. "Many corporates complain that they want to focus on education, but their telephone calls goes unheeded by the department," she adds.
Partners for Possibility, a leadership development and principal support organisation, equips principals with the skills and knowledge to lead change and mobilise the communities around their schools. It provides practical hands-on support to principals as they embark on a change journey in their schools, sharing what works and engaging leaders to replicate proven interventions.
With enrolment into higher learning institutions growing every year, bursaries and financial-aid schemes are also areas that are pressed to fund this growing pool. The private sector, which needs a steady stream of qualified professionals entering its ranks every year, recognises the importance of contributing to this sector, with companies such as Vodacom, Investec, Nedbank and Telkom awarding bursaries to learners in areas ranging from information and communication technology to engineering and law.
Bursaries are an immense help to individuals who cannot afford to pay their full fees, allowing them to complete their qualifications and get a foot into the door of employment.
---