Fintech Companies Disrupt Traditional Banks
Thekiso Anthony Lefifi
---
If traditional banks fail to keep up with the ever-changing demands of the industry, they could face the danger of becoming obsolete, writes Thekiso Anthony Lefifi.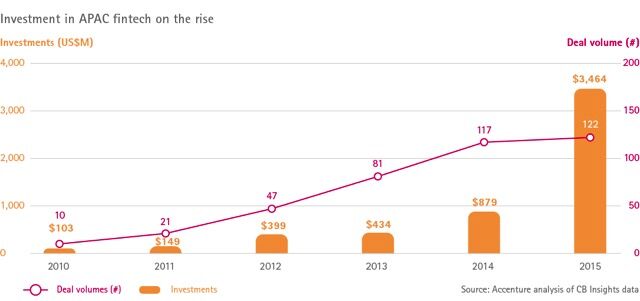 Accenture highlighting the importance of start ups in the sector.
In recent months, there has been a surge in unapologetic financial technology (fintech) companies, which continue to steal traditional banks' lunch from right under their noses.
Although there isn't one single large disrupter, banks are being assaulted from all sides. For example, consumers don't necessarily need to go to a bank to access small loans or transfer money – savvy fintech companies increasingly service that market, thus disrupting traditional banks' revenue streams. It is no wonder then that according to the 2015 Europe, Middle East and Africa Crisis Survey, disruptive start-ups are what established this fear in companies.
International communications firm Burson-Marstelle recently stated that in the past 12 months "controversial company developments" were the type of crisis most frequently encountered, with the entry of new and innovative business models into their market the second most experienced cause of crisis.
There are signs indicating that a bank without capital or a vast physical distribution network is possible, according to Simon Mathews, Chief Strategy Officer for Extractable, a digital consulting agency. He goes on to say the "uberisation of banking" is making it harder for banks to sell more products to each consumer.
One company that seems to be a real disrupter in the financial-services sector is Jumo, which allows financial access through mobile wallets, with no need for a bank account, physical structure or collateral.
Jumo, a Cape Town and Nairobi-based company, which separated from African financial services company AFB earlier this year, is linked to large mobile networks such as Airtel and MTN. Jumo has, to date, dispersed 4.9m loans to 1.8m unique customers, with active integrations across Kenya, Tanzania, Uganda, Rwanda, Zambia and Ghana.
Fintech investment
Due to these increasing disrupters, more and more banks and other financial-services companies such as insurers are upping their investments in fintech companies. Investments in fintech's across Asia-Pacific skyrocketed in 2015 – from about $880m in all of 2014 to nearly $3.5bn in just the first nine months of 2015, according to a new report by Accenture highlighting the importance of start ups in the sector (see graph).
According to the report, the largest share of 2015 Asia-Pacific fintech investment deals were in payments (40%) and lending (25%), which have traditionally been the sole domain of banks.
Last year, investment in fintech's nearly tripled in the US alone – from $3.4bn in 2013 to $9.9bn in 2014. This means last year's 191% increase overshadows the 2013 figures. "An increasing number of banks and insurers are investing into the fintech ecosystem, whether through accelerator or incubator labs or venture investments," says Robert Gach, Managing Director of Accenture Strategy Capital Markets. "We believe this explosive growth in fintech will help drive innovation within some of the world's largest financial institutions."
Ashley Veasey, Barclays Africa's Chief Investment Officer, says the group is not surprised at all by the increased disruption of fintech companies on the banking sector, as it has been strategising about fintech for at least three years. "We are actively looking to partner with [fintech] start-ups," he confirms. Last year, Barclays Africa acquired 49% of RainFin, a start-up promising to disrupt the financial-services sector by allowing South Africans to take part in person-to-person lending, cutting out banks in the process.
LulaLend is another fintech that has been stealing lunch from traditional banks by granting short-term business loans to small business in the country. The group has less stringent requirements than banks, and offers loan amounts from R20 000 up to R250 000 mostly over a six-month period. Interest rates on the loan vary between 5% and 12% for the first two months, and 1% for each of the remaining four months.
Michael Jordaan, former First National Bank CEO and Montegray MD says, traditional banks can be quite good at incremental innovation, particularly in South Africa, but generally fail at radical innovation, especially if such radical innovations threaten existing profit streams. He is also of the view that the acquisition of fintech companies by large banks has proven to have market traction. "Most big companies stuff up the start-ups that they acquire by enforcing company policies," he says. "It is important to understand that one of the big benefits that small start-ups have is relative freedom from bureaucracy and an ability to move very fast. These benefits can quickly disappear if a corporate ethos is enforced."
According to Jordaan, there are some instances where banks do put themselves at risk when acquiring fintech players, given that banks will be seen as guarantors of last resort.
---