---
Adam Oxford and Lungelo Shezi explain how high-tech innovations are making some of South Africa's toughest communities safer.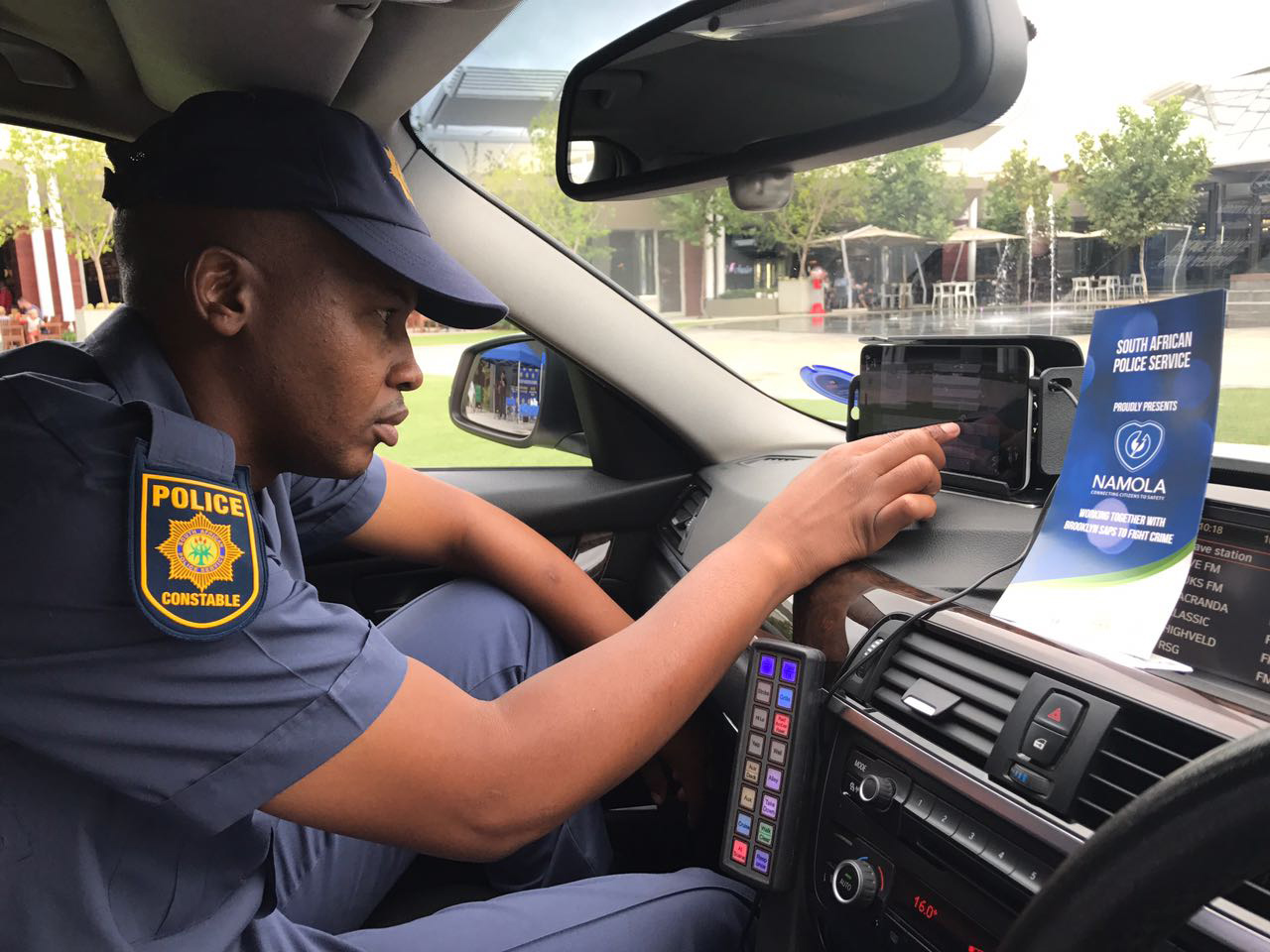 Image: Officer using responder unit
In many countries around the world, calling the police, fire or ambulance service to an emergency is something that is taken for granted. But for those living in or visiting one of South Africa's informal townships, there are significant challenges which slow response times down to a crawl.
In some countries, the average time for a car to arrive on the scene of a crime is 11 minutes. In South Africa it can take 15 minutes just to work out where a caller is located, if they're in an area with no street names or landmarks.
Fortunately, there is an increasing number of social entrepreneurs turning their attention to these issues. Lumkani, for example, is an internationally acclaimed heat detector for informal shacks. The system uses a rate-of-rise-of-temperature technology to accurately measure the incidence of dangerous fires. This also reduces the likelihood of false alarms.
Each detector is part of a network of other detectors within a 60m radius of one another; when rapidly rising heat is detected, it alerts other detectors, and SMSs are sent to the home owner and others with the fire's location, which can be relayed to the emergency services.
Lumkani first piloted its detectors in Cape Town and has distributed over 9 000 detectors in total. In a country where 23 informal dwellings burn down every day, it's a step towards saving lives.
Smart police
Perhaps the most impressive work, however, is being done by a company called  Namola in Tshwane. Namola was developed by some of the team behind Tshwane Free WiFi, who saw an opportunity to use the growing number of smartphones and internet connections in townships to improve police reaction times to crimes.
Developed in close partnership with Tshwane Metro Police, Namola is a smartphone app that allows citizens to send emergency messages directly to officers on patrol, which are encoded with the GPS location of their phone.
When an alert is triggered, the Tshwane SAPS control centre receives a notification to call the user back for more details, but police will already be on their way, as the three closest cars to the phone signal will also receive a message on a tablet screen.
Namola's Peter Adolphs says the system is currently live in 250 police cars around Tshwane, and has proved popular with residents and operators alike.
"It's the same as a typical Uber request," Adolphs says. "You can see who the responding officer is before they arrive, and update them with information while they're on the way."
Because users must create a profile when they install an app, it also reduces the likelihood of prank calls, which Adolphs explains are the bane of the 10111 system.
Instead of 15 minutes, Adolphs says cars can be despatched to incidents anywhere in the area in less than 60 seconds. Ultimately, he wants to include other emergency services in the app too, and roll it out to the rest of Gauteng and South Africa.
A similar project is also being developed by Open Data Durban. Adolphs says that, at some stage, he can see multiple services, including other civic reporting applications for flagging infrastructure issues such as the familiar pothole, all available in one single dashboard for residents.
For the time being, however, he's focused on growing Namola and making sure it works, and that people are aware of it. To this end, the app has the backing of Crime Stoppers International's Yusuf Abramjee, who speaks on behalf of Namola.
Shortcodes
One key challenge with any technology project developed for townships, of course, is access to data. Even while smartphone penetration is rising exponentially, the cost of data and coverage means the ability to communicate in applications is far from guaranteed. When the Vimba service was launched last year to provide assistance to victims of sexual abuse in Diepsloot, the focus remained on USSD and SMS interaction. Anyone can use the shortcode *134*403# followed by their extension number to find the nearest police station or on-the-ground support.
---