Elandsfontein Aims For Responsible Mining
By: Nelendhre Moodley
---
Brazil, Australia and India remain on the agenda as key export destinations for phosphate from Elandsfontein mine, which came into production in March, Michelle Lawrence, technical director of the Elandsfontein Phosphate Project, tells SA Mining.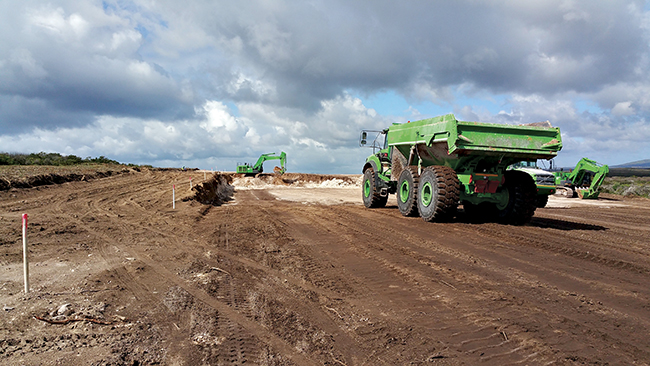 Image: Mining development commenced in August 2016, with the construction of the mine access ramp and box cut. Mining will commence once the Integrated Water Use Licence has been granted
Although a portion of the strategic mineral is earmarked for local consumption, the bulk is destined for the export market.
"Potential customers are awaiting bulk samples to determine whether Elandsfontein phosphate is suitable for processing at their plants," explains Lawrence.
The Elandsfontein mine, located on the west coast of South Africa, is well placed, from a logistics point of view, for local supply and supply into the southern hemisphere.
Mined phosphate, a strategic mineral for South Africa and globally, owing to its importance to food security, is an essential element in plant and animal nutrition. Of the 210mtpa global production, South Africa only produces 1.7mtpa, which comes mainly from the Foskor phosphate rock mine.
According to Lawrence, South Africa imported over 60% of fertiliser in 2015, valued at R7.3bn.
When it comes into production, Elandsfontein phosphate mine will add 1.5mtpa of phosphate concentrate at a grade of 32% P2O5 to local production. Mining of the shallow deposit, which occurs from 20m onwards, entails a simple mining process.
According to Lawrence, the R1.35bn project, which is located on the largest sedimentary deposit in the country, has a life of mine of 15 years.
The 70:30 joint venture between Kropz and African Rainbow Capital has blue-sky potential, given that the coastline consists of a number of phosphate deposits.
"The next phase of the project will see the establishment of a fertiliser plant. Initial capital estimates are in the order of R10bn," states Lawrence.
Responsible mining
"As much as we look forward to bringing the mine into production, we also look forward to further educating the community and removing the negative perceptions associated with mining. Currently there is limited mining taking place in the Elandsfontein area. As our focus is on responsible mining, the aim is to illustrate that mining can be done as a sustainable practice going forward," explains Lawrence.
The project has come under fire from environmentalists due to its location in an ecologically sensitive area – it lies adjacent to a South African National Park and just 12km from Langebaan lagoon, a wetland area.
Lawrence contends that key environmental decisions have been taken since conceptual design, with a rehabilitation specialist involved in the project since 2013.
As part of its responsible mining initiative, the company is employing a reverse flotation method, using a biodegradable collector instead of the conventional phosphate flotation method, and iterative design processes to continuously reduce the disturbed areas. It is also engaged in "careful mine dewatering and replacement of groundwater to protect the aquifer and Langebaan lagoon".
"We have a comprehensive water monitoring programme in place which ensures that information can be interrogated any time, in real time. Our intent is to be open and transparent, and to foster engagements aimed at improving perceptions of the mining process."
In addition, a progressive roll-over mining method will be employed as soon as steady-state mining is achieved. Using this method, the vegetative topsoil and mine overburden from a new mining "strip" will be replaced within a mined-out strip, ensuring continuous rehabilitation on the mining area. Also as part of the rehabilitation programme, the company has partnered with the University of Pretoria in the search and rescue of sensitive vegetation.
In addition to a full-time archaeology/palaeontology team which forms part of a heritage management plan, the company has a game management programme for the wildlife on the property.
"Concerned parties and industry watchdogs have been invited to inspect the project to ensure that we are transparent," states Lawrence.
Economic upliftment
During the construction phase, Elandsfontein provided jobs to 1 025 people, almost half of whom are resident within the Saldanha Bay municipal area. Once in operation, the mine will employ 450 permanent employees. "We have a strong drive to recruit locally." The area, which consists of about 100 000 people, has unemployment levels of around 23% and an estimated 30% youth unemployment rate.
The mine will promote economic growth and development and employment as well as training for employees and skills development, the company says.
According to Lawrence, the company has invested heavily in infrastructure development, including development of an access road in the direction of Hopefield, a nearby town.
---