EIAs fail to consider impact of mining on children's rights  
By Brindaveni Naidoo
---
The right of children in South Africa's mining industry was a strong discussion point at the first Global Child Forum on Southern Africa, held late last year in Pretoria.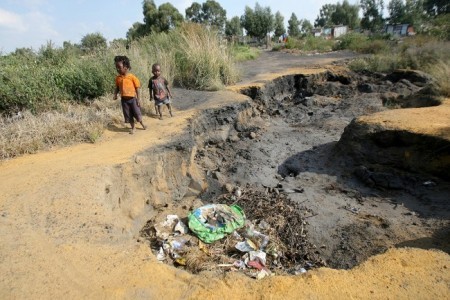 An area, which is built on an old mine dump, where part of the ground has sunk. (© Veli Nhlapo @ Sowetan)
Issue / Number
July – August 2015
The one day-forum was held under the patronage and active participation of Graça Machel and Her Royal Highness Princess Sofia of Sweden.
Keynote speakers included Dr. Nkosazana Dlamini-Zuma, of the African Union Commission; Mr. Geoff Rothschild, former chairman of the Johannesburg Stock Exchange; and Dr Benyam Dawit Mezmur, chairperson of the UN Committee on the Rights of the Child.
Commissioner Lindiwe Mokate of the SA Human Rights Commission explained that mining played a critical role in South Africa's economy. But, at the same time, she said the industry has a legacy associated with labour violations; tainted by occupational health diseases; and the destruction and degradation of the environment.
She said that the environmental impact assessments (EIAs) failed to consider the potential impact of mining on children's rights.
For example, she referred to a company that had been granted a mining licence in Limpopo, following which a school had to be relocated in the area.
"Consultation with children ‒ holders of constitutional rights ‒ did not take place, and the impact on children and their rights was not assessed during the consultation process."
When such decisions are made to relocate a school, the consequences result in, for example, increased dropout rates from school, due to longer distances that have to be travelled.
Mokate also discussed the vulnerability of children, particularly when fathers have to leave home to work in far-off located mines and the impact on having a missing parent in the home. Mokate also referred to the degradation of the environment, with specific reference to acid mine drainage, and its impact on the health of children.
She cited a case in Mpumalanga, some 10 years ago, the  post-closure was not rehabilitated properly, and residents were then challenged when the walls in their houses started to crack and children drowned as a result of the formation of sinkholes.
Further, a study launched at the forum ‒ Children's Rights and the Corporate Sector in Southern Africa ‒ analysed 271 JSE-listed companies operating in Southern Africa in an attempt to create a benchmark to analyse trends and track progress on how the corporate sector addresses children's rights over time.
Initial results show that, while 43% of the companies surveyed have policies related to child labour, only 1.5% have policies that extend to child rights-related issues other than child labour. Only 8% of the surveyed companies reported that their board of directors, or an accountable board committee, has overall responsibility for sustainability, human rights, or social issues that include children's rights.
Graça Machel told SA Mining that it was critical for the private sector to prioritise children's rights as a responsibility and that the protection of those rights must go beyond labour protection. For example, she stressed the need to move beyond building schools to prioritising skills development for human capital. "The private sector is a critical investor for the human capital of our youth." impact of armed conflict on children remains an issue of global concern.
Meanwhile, Dr Nkosazana Dlamini-Zuma, the chairperson of the African Union Commission, said that the recruitment of child soldiers; rape and sexual violence against them; maiming and killing; abduction and denial of access to humanitarian assistance as experienced in recent conflicts in South Sudan, Central African Republic and Mali were sticking points. The use of children and child soldiers are a feature of mines around the world, including in Africa.
According to the International Labour Organisation, even today, tens of thousands of children are found in the small-scale gold mines of Africa, Asia and South America.
Children work both above- and under-ground. In the tunnels and mineshafts they risk death from explosions, rock falls, and tunnel collapse. They breathe air filled with dust and sometimes toxic gases.
---