Education Funding Requires A Collaborative Effort
---
Only a concerted effort from all sectors can solve the national education funding crisis, writes Sungula Nkabinde.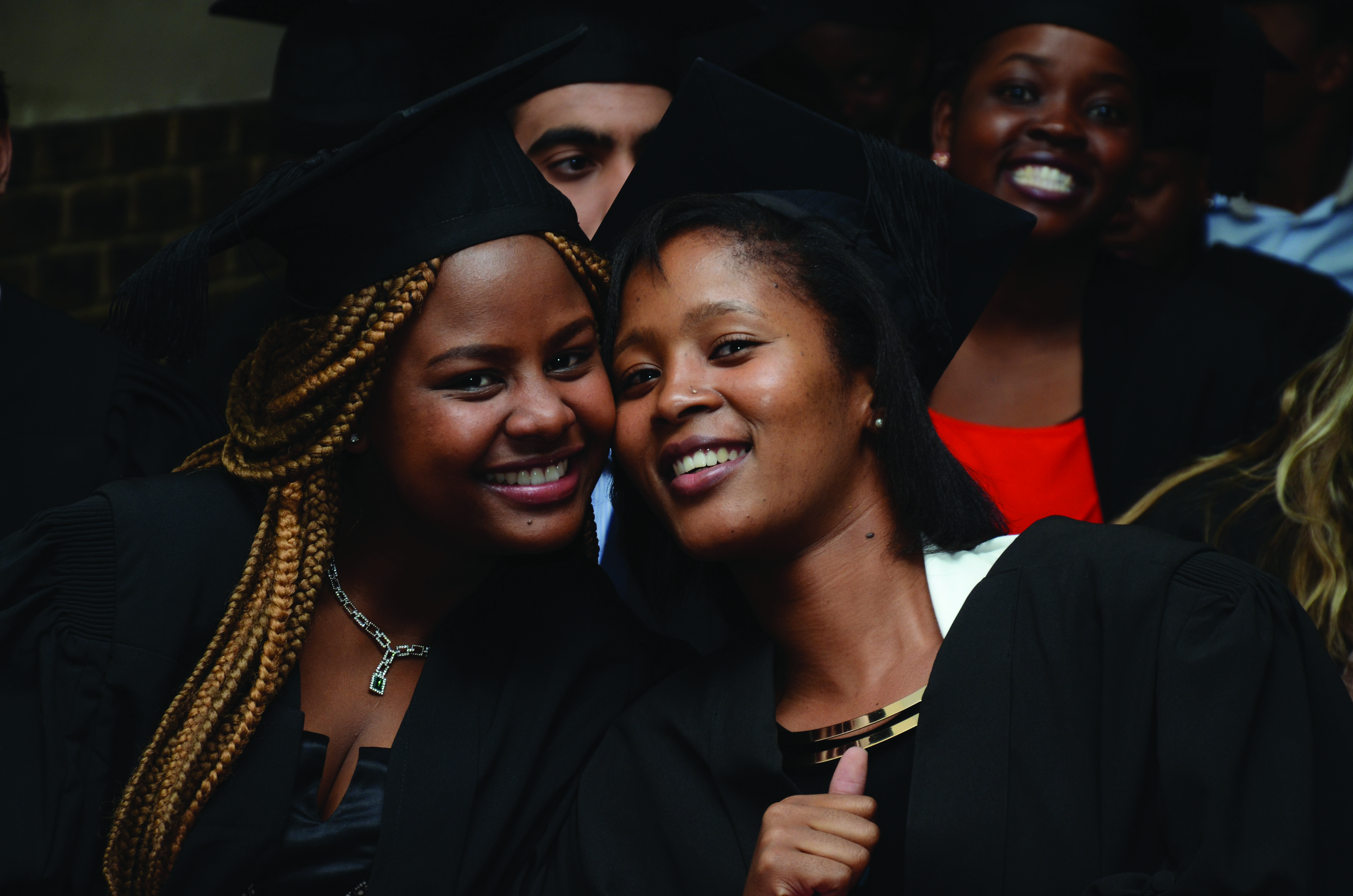 Image: Higher education - Two students at a recent Study Trust graduation celebration
The banking sector has a role to play in solving the country's tertiary education crisis, but all spheres of society need to pull together to effect real change and create a lasting solution.
The #FeesMustFall movement, which  saw student-led protests spread to universities throughout the country as rapidly as they escalated in violence, forced the issue of access to higher education to the top of the national agenda. Looting, police brutality, arrests, expulsions, arson and general disorder quickly turned the issue of higher education funding into a crisis. A solution depends on a collective effort from all stakeholders.
It is not just the government that will have to increase its higher education spend substantially, but the private sector will also have to do more. The banking sector, in particular, has a significant responsibility because it is in the business  of providing funding.
In many ways, the crisis presents an opportunity for banks to fund students who, upon graduating, are likely to become their customers. It is also in the best interests of banks – and the private sector at large – to increase the number of university graduates who, on average, have higher earning potential and spending power than people without tertiary education.
According to The Banking Association South Africa, which views investing in education as a competitive issue for the sector, the industry spent more than R450-million on education-related programmes in 2015, excluding loans.
Murray Hofmeyr, the national director of StudyTrust – which is entrusted with millions of rands for bursaries, learnerships and internships by many of South Africa's blue chip companies (including banks) and the United Nations – says that the government has done a good job to incentivise skills development expenditure. This has been achieved through the 2013 revised Broad-Based Black Economic Empowerment (B-BBEE) Codes, which allow companies to gain more skills-development points than during the previous dispensation.
"In the past, companies would only get points for spending 3% of their payroll," says Hofmeyr. "Now the revised codes say they must spend 6% of their payroll, and if they don't spend at least 40% of that, their B-BBEE score is downgraded."
Also, the revised codes now reward companies with B-BBEE points for the  skills development of black South Africans, even if they are not employees.
Hofmeyr says the only problem is that there is still a 15% cap on how much of that can be spent on anything other than tuition or course fees. "It means the incentive for spending on ancillary costs such as accommodation, transport and student stipends is limited," he says. "Companies want to provide skills-development funding, but we can only  use it to pay tuition fees, which are only  a third of a typical full-cost bursary.  The banking sector should collectively lobby the minister to remove the cap, thus allowing organisations to provide  full-cost bursaries."
Free tertiary education for all still unlikely
Although the concept of "free education  for all" has gone from being a pie-in-the- sky idea to a bona fide policy objective, the question of whether it is indeed achievable remains unanswered. The prevailing view is that it is neither feasible nor desirable to provide free tertiary education for all, not least because the state has limited resources and cannot carry that burden alone.
Also, the National Student Financial Aid Scheme (NSFAS) has been unable to keep up with the enrolment rate of academically deserving students from poor communities, which has grown faster than available funding. The scheme is struggling to collect debts from beneficiaries and is owed  R20-million by current and former students, many of whom are now in paid jobs.
Furthermore, the issue around those students who are either too wealthy to qualify for state aid, yet too poor to pay fees – referred to as "the missing middle" – must be addressed. This group of students also tends to be overlooked for bursary programmes that often sponsor those with greater financial needs.
"We try to say that our means test for applicants is wide enough but, at the same time, it is skewed towards those who are a lot more desperate," says Setlogane Manchidi, head of corporate social investment at Investec Asset Management. "In most instances, the people we sponsor are those who have no income at home or are dependent on social grants."
The bank, whose corporate social investment programmes are all education focused, admits to somewhat neglecting the missing middle, simply because there are so many more students who have absolutely no chance without their support.
"Their parents are domestic workers, unemployed or taxi drivers. Some of  them are part of child-headed households," says Manchidi.
This, perhaps, is the where assistance from the private sector is most needed. The missing middle, who can't be fully or partially subsidised, could receive private sector funding and, upon finding employment, become subject to a graduate tax.
Sara Gon, a research fellow at the South African Institute of Race Relations, says that the graduate tax should only become applicable once an individuals' earnings are at a certain level. "They should not be expected to start paying back their loans as soon as they start working, because they will not be earning enough," she says. "Otherwise, young people's lives become so difficult and unmanageable that it can create another major problem for the economy, as has been the case in England and America."
Funding is not the only problem
Another problem is that of dropout rates, whereby those who receive funding do not complete their studies. National Treasury recently released a NSFAS study that says 63% of the beneficiaries registered in the year 2006/7 dropped out within five years. The dropout rate for funded students studying three- or four-year degrees was almost double that of all students studying toward the same qualifications.
Our education system, particularly at a basic level, is not producing the kind of matriculant – even with the best of results – who is ready to thrive in and survive university. So there is a need for funding towards providing additional support for those students who would otherwise struggle or fail.
Banks could also create initiatives to improve the quality of secondary education, such as Investec's Promaths programme, which provides extra lessons in mathematics, accounting and science  to high-potential learners.
The shortcomings of the country's secondary education system are illustrated in The Banking Association South Africa's most recent annual report, which states  that 19% of 799 000 learners enrolling for matric in 2015 did not complete the year. Those who did complete matric preferred to enrol for mathematical literacy (some  389 000) over mathematics (264 000), reducing the number of candidates available for mathematic-based careers.
The report states, "Of the learners electing to take mathematics and who wrote the exams, the majority (51%) could not attain 30%, increasing to 68% of learners unable to reach 40%. In mathematical literacy, 29% of learners did not attain 30% in the final exam, with 50% unable to achieve a level of 40%."
So, there is definitely more that can be done in terms of improving the quality of secondary education. But that is another can of worms, because secondary education is inextricably linked to primary education, which in turn is linked to early-childhood development.
"They may be very unhappy at the moment, but university students are the elite compared to all the other levels of education, where the problems are so much bigger," says Gon.
Government can't go solve the problems alone
The severity of the higher education funding crisis is not lost on National Treasury, which will allocate an additional R17.6-billion to post-school education and training in 2017, making it the fastest growing element of the budget. But, given the sheer number of tertiary students in need of financial support and a higher education system running thin on capacity, it is not nearly enough.
Similar to the R5.6-billion added to university subsidies in the 2016 budget to fund a 0% fee increase for that academic year, the significant injection of funds (proposed by Finance Minister Pravin Gordhan in the Mid-Term Budget Policy Statement in October) will mostly be spent on subsidising fee increases for beneficiaries of NSFAS and the missing middle over the next three years.
According to NSFAS Chairman Sizwe Nxasana, far more funding is needed to build capacity in tertiary institutions, which are under the severe pressure in the face of rising enrolments, low degree-completion rates, high staff to student ratios, and an unsustainable funding base.
In a presentation to the Commission of Inquiry into Higher Education and Training, the CEO of the Council on Higher Education, Professor Narend Baijnath, explained just how dire the situation has been for universities.
In 2015, five universities were in deficit, while 2016 saw 16 unable to meet their expenses (unless they had already made cutbacks). According to Baijnath, another 0% fee adjustment in 2017 will see universities collectively lose a further R800-million in revenue in addition to the R1.4-billion lost in 2016, even with compensatory subsidies from government. NSFAS will experience a shortfall of around R400-million.
According to data from annual university reports and financial analysis reports from the Department of Higher Education and Training – collated by former University of Witwatersrand lecturer, Khaya Sithole – state contributions to university education have dropped severely since the turn of the century, when the government subsidy covered around 50% of the total costs of all 500 000 students enrolled at university. Now, the subsidy only covers 38% of the costs, while the number of students has almost doubled to 908 000. This has effectively shifted the funding burden onto the students.
Unsurprisingly, the proportion of students requiring financial aid continues to grow, with nearly 20% of all enrolled students funded by NSFAS in 2014, compared to an estimated 14% in 2000. At some universities, students currently receiving financial aid already constitute more than 50% of the student body.
Solution for the missing middle to be piloted next year
National Student Financial Aid Scheme (NSFAS) Chairperson Sizwe Nxasana says the financial services sector will be at the core of the new funding model for the missing middle. The initiative plans to leverage the private sector, particularly banks and insurance companies, to significantly increase the funding available for students and capacity building at tertiary institutions.
The public-private partnership, which Nxasana says will be co-owned by the financial services sector, will be piloted at six to eight universities and a number of technical education colleges next year, offering free education to those who currently cannot afford it.
"Once the model is implemented, banks will be involved to provide funding through various instruments. We will tap into retirement funds, including pension and retirement funds, and into back-office systems that banks already operate," he says.
Nxasana, who also chairs the ministerial task team responsible for developing the model, says The Banking Association South Africa and the Association for Savings and Investment South Africa played a key role in developing the blueprint. The aim was to develop a framework that would make it possible to provide access to higher education to all, and free education to the poor, while the missing middle would get a combination of loans, grants and subsidies. The model will also cover tuition and living expenses, and will provide academic and psychosocial support to funded students to improve their chances of graduating.
"Repayment of the loan components could be done through the South African Revenue Service to improve the efficiencies of recovery and debt collection. But, there is still a long process before we reach that point," says Nxasana.
---