Drone On
By: Nelendhre Moodley
---
International import/export trade continues to grow – this in spite of the global financial crunch.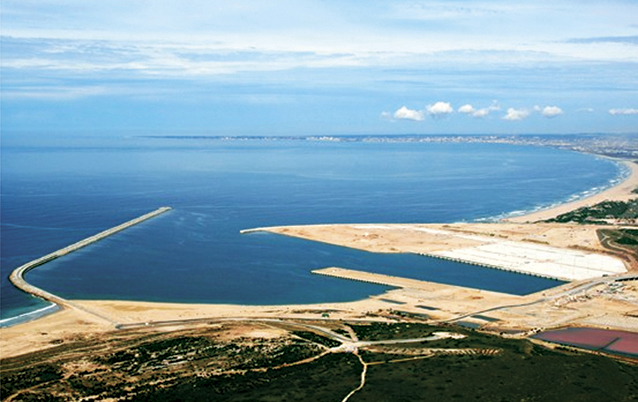 Image: Coega Industrial Development- Port Elizabeth
According to the United Nations conference on trade and development, Review of Maritime transport 2015, world merchandise trade grew by 2.3% in 2014.
The development of an efficient port system is an imperative, given that 90% of import and goods export is by way of shipping, says Arup's director for Maritime Practice for SA, Southern & sub-Saharan region, Pheku Montwedi.
The higher the throughput of goods and passengers, the greater the need for improved infrastructure, provisions and associated services requirements at ports.
Montwedi explains that the key to improving efficiency at ports is, increasingly, a move towards innovative technologies. "Among the many tools being developed is drone technology," he notes.
Internet retail giant Amazon is busy with a multi-million-pound drone testing programme. The firm aims to deliver packages to people's homes using drones and believes that this is a more eco-friendly way of transport. Last year Amazon unveiled its prototype drone, which can fly for 10 miles at a height of 400 feet and carry packages of up to five pounds (2.2kg), the company says.
According to Montwedi, drone technology will dramatically transform the way firms do business and this is particularly true for future port design and development.
"Port authorities in the western world are already investigating the associated opportunities offered by drone technology, including increased efficiency related to predictive port maintenance programmes and cost-effective smaller port land-sites," he says.
In addition, supply chain efficiency at ports will dramatically improve, especially if the drone parcel delivery system is adopted.
"The logistics chain will become simpler and easier to manage. Moreover, there will be a limited need for workshops and storage facilities for consignment trucks with bulky items," he states.
Although drone technology at ports is at infancy stage, with investment directed at studies now, Montwedi notes that drone technology implementation is to be expected in the next few years.
"Conversations at port conferences have already turned to ways of improving efficiencies using drone technology, and this includes discussions on the growing trend for smaller port land-sites."
Another clear trend in the maritime industry is the move towards the development of green ports.
Increasingly, coastal countries are looking to technology to aid in the development of these 'green' ports. Green ports are those that are sustainable, have a lower carbon footprint, use less material in the construction process and have a smaller land-site footprint.
Technology is playing a significant role in the development of efficient modern ports, such as the Netherlands' soon to be completed Maasvlakte 2, which will be "the world's first fully automated zero-emission container terminal" – according to the Port of Rotterdam website. Aside from the reduced interface with labour, there is greater opportunity for automating border post processes such as paperwork, thereby lowering the time and associated cost of being at port.
However, one of the key concerns for smart city developers is the fact that cities grow faster than ports, thereby leaving insufficient land-site for future port growth.
Moreover, the advent of the green communal port gives rise to security concerns. As a result, consulting firm Arup has developed a port sustainability tool that looks at various port-related issues, including security. "The tool looks at various facets of a port development and its impact on society with regards to social, economic, environmental, security, future development, integration, relevancy, etc. The tool was used for the redevelopment and regeneration of the port of Santander in Spain. Its success depends on the buy-in from all stakeholders, such as the City Council, which was the case here."
Meanwhile, bigger ocean cities are, in fact, trending towards improved ports to handle larger container vessels. Over the years, bigger cargo carriers with greater load capacity have increased in demand, and have subsequently seen ports, including South African ports, being revamped to increase depth and width to handle the larger vessels.
"For instance, in China, there is demand for bigger ports, and, subsequently, the need for bigger cranes to move the large volumes of cargo containers."
That said, there is also a trend towards smaller, bespoke ports, because of the cost implications associated with developing large costly ports.
"Smaller cost-efficient ports are an attractive option, particularly for cash-strapped African countries. Road infrastructure is considered one of the biggest costs associated with the development of intermodal facilities for transportation of goods. Smaller port and drone technology will make it affordable for transport operators to invest in the required intermodal infrastructure," explains Montwedi.
Because of cash constraints and the drop in commodity prices, especially oil prices, the development of a number of ports has been put on hold, including some of the big port projects in South Africa. "Transnet has indicated that, owing to current economic conditions, it will not go ahead with some of the large port developments."
Montwedi highlights lack of adequate investment in port infrastructure development, skills shortage and lack of maintenance capital as key challenges facing the maritime industry.
"In Africa, there are very few ports that are modern, automated and efficient. Egypt recently upgraded the Suez Canal, Kenya's ports are moving towards modern facilities and South Africa has a mixture of modern and old ports," concludes Montwedi.
---