Driving Change
By: Nelendhre Moodley
---
South Africa's oldest consulting engineering firm, Knight Piésold, which celebrates 95 years this year, will soon join the ranks of top South African companies, such as De Beers and Old Mutual, which have been in existence for over a century.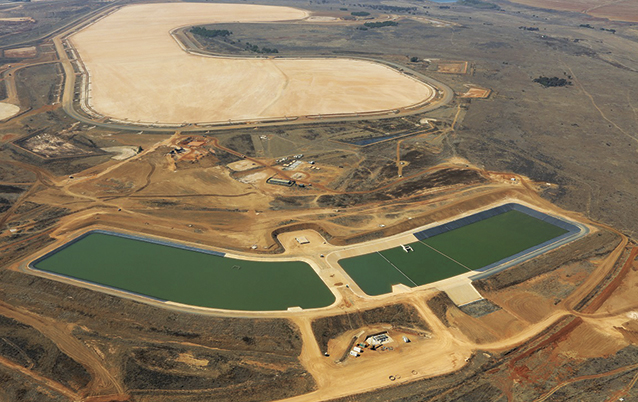 Image: Ingula Pumped Storage Scheme
MD Vishal Haripersad believes that this is a great feat given the challenging global economic conditions which have resulted in a number of mergers and acquisitions (M&A) by larger global consulting engineering firms looking for a foothold in Africa.
According to Equiteq's The Global Consulting Mergers & Acquisitions Report 2015, the consulting sector M&A deals globally in 2014 continued the long-term upward trend in deal volumes since 2010, including a 13% increase in the number of deals compared to those in 2013. The report also indicates that consulting deals in Africa and the Middle East were up by 74% compared to the lowest point in 2010. However, the region, which is being driven by South Africa with 45% of total deals, is a relatively small proportion of the global M&A consulting market, with an average of 2.3% of total deals a year.
"We have been through almost a century's worth of cyclical trends and this has given the company a unique industry perspective and, in turn, the ability to plan better for the future," Haripersad says.
Knight Piésold remains a growing business both organically and acquisitively and this is the result of its top skills set, long-term vision and ensuring that it progresses industry transformation.
According to Greening Africa's Industrialisation: Economic Report on Africa by the United Nations Economic Commission for Africa, the challenge facing African leaders is to transform their patterns of production, and building system-wide infrastructure to address economic transformation. Such measures will ensure secure supplies of water, food and energy.
Haripersad highlights three key drivers for transformation namely: meeting and exceeding the requirements of the Transformation Charter; investing in education and skills development; and creating an enabling environment for small, medium and micro enterprises (SMMEs).
"Transformation is not just about ticking off the checklist of requirements – it is about changing the way society operates, it is about addressing the needs of people and delivering the required services and providing the relevant infrastructure to foster growth and employment," he stresses.
Haripersad adds that transformation should form the blueprint of all company's strategic goals and act as a key driver for change. In this way economic growth can be stimulated.
"Meeting the requirements of the BEE scorecard entails being heavily vested in corporate social investment (CSI) programmes. In fact, The South African Department of Labour has identified skills shortfalls as being particularly high in terms of required management skills, technicians, artisans and skilled labourers."
As such, the level 2 BBBEE-compliant company's CSI programme attempts to address these needs through supporting projects that provide education and training in the under-resourced areas of maths, science and technology for learners at secondary school level.
"Our objective is to transform society by partnering with industry and educational institutions to enhance learners Maths and Science skills on a larger platform. Such investments ensure that we lift the standard of doing business at company and country level."
The second driver of change entails equipping SMMEs with the required opportunities, skills and knowledge to develop businesses that will generate current and future employment. The current rate of unemployment, which, at almost 27%, is too high, bemoans Haripersad.
As a result, government is aiming to put policies, strategies and programmes in place to create an enabling environment for small business.
The National Development Plan (NDP) is one of those strategies, and it has outlined an agenda of 90% job creation by SMMEs by the year 2030. However, in order to meet this mandate, industry has to develop the required infrastructure, such as roads and telecommunications, to facilitate the SMME job creation programme.
Haripersad adds that industry is in the process of adopting the Preferential Procurement Policy Framework Act (PPPFA), which calls for 30% of SMME business allocation on contracts of R30m and above.
"Knight Piésold continues to allocate a significant portion of its contracts to SMMEs and calls on the rest of industry to follow suit and promote SMME development."
According to the BER Commissioned Research 2016 The Small, Medium and Micro Enterprise sector of South Africa report, SMMEs can be key drivers of economic growth, innovation and job creation.
Moreover, industry needs to exceed the targets set by the Transformation Charter if it is to lift the majority of the population out of poverty. As an example, Knight Piésold has adopted the stance of being an employee-owned global consulting firm, remaining South African-managed and -owned.
Projects
Knight Piésold provides specialised services to the mining, power, water resources, infrastructure, and oil and gas industries.
The company has an extensive footprint across Africa and has a global presence in North and South America, Europe, Australia, and Asia.
Haripersad explains that, owing to the water resources challenge currently impacting the  continent, expanding the water infrastructure footprint will be of great importance going forward.
The consulting firm, which played a key role in the development of the Ingula Pumped Storage Scheme in KwaZulu-Natal, continues to be involved with the development of the Lesotho Highlands Water project.
Other notable water development projects include the Neckartal dam, in Namibia and the Western & Northern Aqueduct projects which are the largest pipeline projects undertaken to date in the KwaZulu-Natal region.
Power and transport infrastructure development also remain key. If South Africa is to meet its 90% job creation agenda by SMMEs, then development of base-load power becomes an imperative, he explains. Kusile and Medupi power stations will meet current power needs, but beyond this, the country needs to invest in more power projects to stimulate growth.
---