Deluxe Shopping Centres Increase Property Value
---
Pam Golding Properties Atlantic Seaboard and City Bowl area manager Basil Moraitis said that small shopping centres have all contributed to the regeneration of the area, proving the convenience of being near a shopping centre outweighs potential problems of increased traffic, noise and pollution.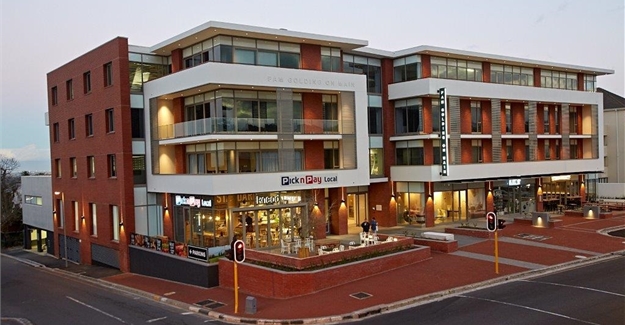 Pam Golding on Main, shopping complex.
Pam Golding Properties' multi-use retail and office development on Main in Kenilworth, Cape Town – opened in 2015 and is anchored by a 510m² Pick n Pay store. Its popular pavement cafe creates a vibrant and cosmopolitan ambiance, while boosting interest in buying and renovating flats in the area.
Priced from R4.35m to R5.25m, properties in Palmyra Junction in Claremont were sold as four plot-and-plan homes and have already sold out, regardless of the Woolworths Food convenience store anchoring the properties.
Pam Golding Properties sectional title specialist for the southern Capetonian suburbs, Sandra Barrett, said that established Kenilworth two- and three-bedroomed flats (and duplex townhouses with gardens) are increasingly popular. These often have only one bathroom, and are usually renovated by younger buyers who transform the kitchen space to include a second bathroom, or they replace a bath with a walk-in shower.
Claremont's live-work-play concept 'The Quadrant', is the last of the developers release and comprises one-bedroomed units at R1.45m, a few executive one-bedrooms starting at R1.525m, two-bedroomed apartments from R2.5m, and a limited number of penthouses at R3.45m, says Pam Golding Properties development sales executive, Bev Bloch.
Belvedere Court in Claremont, opposite Belvedere Square shopping centre (with Woolworths and a range of service retail offerings), has sixteen apartments in total, each 75m² and priced from R1.35m to R1.525m, which all sold out last year in just two months.
In Sea Point, Berman Bros Group added offices and shops to the former Galleria to create The Point in Regent Road, which offers everything from groceries to medical services. Main Road has Piazza St John, consisting of Woolworths, Ocean Basket, trendy shops and coffee bars, while Piazza Da Luz offers Wellness Warehouse, restaurants, as well as hair and beauty outlets.
Contributed to the regeneration of the area
Shopping centres have helped underpin property price rises in Sea Point, which is characterised by high-rise, luxury apartments close to the beach. Many professionals buy Sea Point apartments to take advantage of the quick commute into the central city, while investors rent out sea-facing units to holidaymakers.
City Bowl area manager Basil Moraitis said that entry level in Sea Point starts from R1.5m for a one-bedroomed apartment. Two bedrooms start at around R2.6m and can range up to R12 to R15m for a three-bedroomed penthouse.
Shopping centres supporting property price growth are those catering to current influences and trends such as:
Changing demographics: It is increasingly common to live alone, among young, unmarried or divorced people and the elderly;
Trimming down: The higher the socio-economic status, the less bulk shopping is done. Shoppers buy what they need more frequently, two or three times a week, reducing food wastage. Price is not the biggest factor, but convenience, quality and freshness are key.
Time is a luxury: Shoppers want to easily identify a limited number of stores, and their products, for focused, quick navigation;
Neighbourhood watch: Consumers enjoy differentiation and innovation, ideally new experiences adapted to local flavour. An interesting architectural style, good use of indoor and outdoor space, relaxing meeting places and an appealing atmosphere attract shoppers;
Retail mix: Wellness and grooming services, as well as niche brands in accessories such as jewellery and sunglasses, are popular; and
Creative cuisine: Interesting coffee shops, relaxed restaurants, artisanal food and craft beverages complete the mix.
South African research is limited on how a shopping centre impacts on the value of adjacent residential properties; however research funded by the National Treasury (Economic Research Southern Africa) and released this year, showed a statistically significant correlation between proximity to Walmer Park shopping centre in Port Elizabeth and adjacent property prices. Specifically, closeness to Walmer Park was valued at R112.68 per metre.
More detailed American research backs the theory that, excluding the immediate surrounding area, properties' values increase the closer they are to the shopping centre. These results are similar across a diverse range of commercial developments and different cities.
---