---
Darrel Bristow-Bovey discovers that sailing the Seven Seas can be beautiful and crazy at the same time.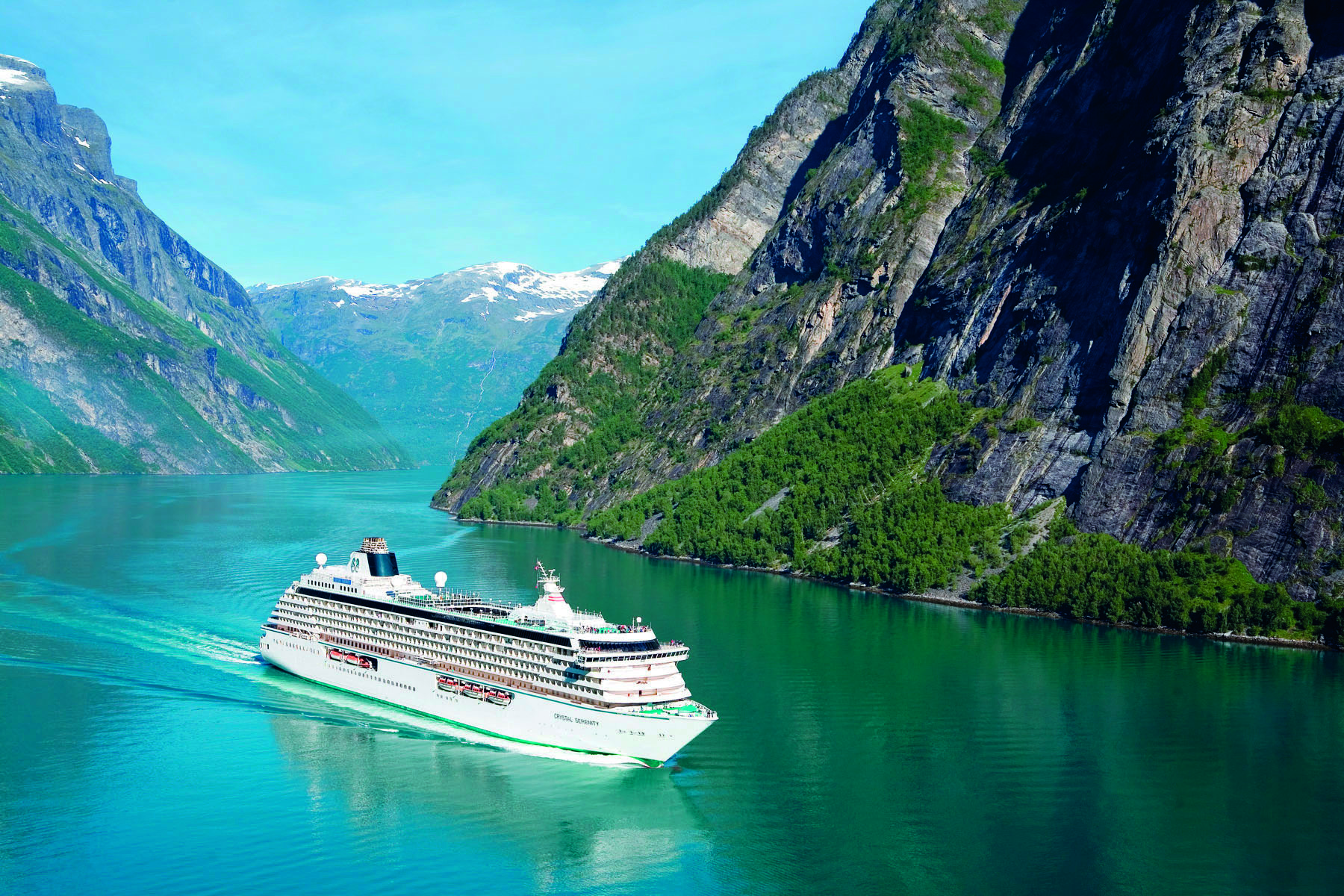 Crystal Serenity at Geiranger Fjord - Norway Crystal Serenity - Crystal Cruises
Everyone was talking about them, even people who hadn't met them. 'They're crazy!' said the guys. 'It's beautiful!' said the women.
Sometimes a woman would think they are crazy. Sometimes a guy would think it's beautiful. But most people agreed: it'll never work back onshore.
I was on board with my girlfriend and we discussed it at length. Each night before dinner, we walked the promenade deck, 500m per circuit, watching the sea turn gold and pewter in the setting sun, then rounding the prow to find purple and squid-ink blue to starboard. It could work, we agreed. Why couldn't it work? Love could find a way. How could you stand out here in the salty air with the great round watery disk of the world surrounding you and not believe that anything could happen?
But secretly, deep down, we knew that's the problem: out here, everything is possible, but back on land different rules of gravity apply.
We were aboard the Crystal Serenity (pictured above), one of the great cruise ships of the world. I can't stress this enough: it matters what ship you take. The difference between a good ship and one of the themed family-friendly torture palaces that make up the majority of cruise vessels is the difference between flying first class or being crammed into an overhead locker.
The better the ship, the more air you have to breathe – there are fewer passengers, bigger staterooms, cocktail lounges with no one in them but you and a pianist and a leather-bound martini list. In our suite, there was a grand bathtub, a separate shower and a walk-in closet. Each room aboard had a balcony, so you could look down and see flying fish skimming over the white water arrowing out from the hull. There were no loudspeakers, no DJs, no organised group events, no volleyball in the pool, no drunken dads, and no screaming kids. Do I sound snobby? Too bad.
We had come aboard to get away from our lives for a while. We hadn't been together for long, but we'd met under complicated circumstances, involving other people, and there was a mess back home that we were more than happy to leave onshore.
On the first night in the dining room, we met Patricia. She was a handsome lady of around 60, a widow of one year who lived in Denver, Colorado. Her kids had sent her on a world cruise for the usual reasons that grown kids send their grieving moms on world cruises. She'd been aboard a couple of months already, and she had fallen in love.
She met Harold on the voyage from New York to Southampton. He was the same age as her, and a widower of 10 years from Delaware, and they played bridge together and took golf lessons at the stern. And as the ship made its way across the Mediterranean and down the Suez Canal and turned eastwards toward Japan, they had taken to meeting on the lido deck for breakfast and spending their days together. Eventually he moved into her suite. They had breakfast on her stateroom balcony with Okinawa in their wake, heading for Sydney, and they never wanted this to end.
I could understand that. My girlfriend and I didn't want it to end either, and we'd only been aboard for a couple of days, steaming northwards along the yellow shores of Namibia through the salty fog banks of the cold southern Atlantic. We put on scarves and scanned the grey ocean like salty, old sea dogs and took an excursion from Swakopmund into the desert to find 1 000-year-old welwitschia plants. We weren't yet that far from home, but it felt further than distance. On the sea days, we felt a calm moving through us like a tidal swell.
'It feels like I'm dreaming,' she said one day. 'As though I'm only dreaming I'm awake.'
We worked on a theory, in the way new lovers like new theories, that our brainwaves were adapting to the slower, deeper rhythms of the ocean waves; that an ECG would show our brainwaves in a long alpha wave, the wave of sleep and of deep-ocean swells, rather than the jagged, short frequencies of wakefulness and the shore.
At night, after dinner, we went dancing up in the Palm Court, with the low clink of whisky glasses and the murmur of conversation, while a laid-back four-piece Philippino band in dark suits played as their beautiful, cool singer murmured low and throaty notes into her microphone.
On our first night there, a very old lady came in, bent almost double. She wore a pretty, sparkly, blue dress, but she was so bent over that it looked as though she were searching for something she'd dropped on the floor. There were gentlemen escorts aboard – distinguished silver-haired chaps with nimble feet whose job is to dance with older ladies who might not have a partner – and one of them approached the woman and held out his hand. This is crazy, I thought – she could hardly walk, how could she possibly dance? But she smiled and accepted, and as they stepped onto the dance floor, it was like some healing wave of electricity passed through her. Her back straightened, years fell away. She danced like a young girl at her coming-out party.
As we went north up the African coast, we left the fog and the cool behind. The air warmed and thickened. Sea birds hovered lazily in the silver haze. We visited Bom Bom Island, part of São Tomé and Príncipe, and walked its perfect beaches and swam in the sapphire sea. We visited Togo and Senegal and Côte d'Ivoire. When we docked in Takoradi, Ghana, my girlfriend and I visited Cape Coast Castle with Patricia.
We walked the stone battlements, the ghastly slave dungeon and the square, narrow tunnel out to the waiting boats, which was the last contact thousands of slaves ever had with the African continent. We bought roasted nuts from a vendor and walked thoughtfully on the yellow beach, with the Atlantic breaking in low waves on the black rocks.
Later that day, Patricia told us about Harold. She was on board for the full round-the-world cruise, but he'd been there only until Australia. At Sydney he departed, and Patricia watched him walking up the dock in his white-linen jacket and straw hat. 'He tried to be brave,' she said. 'But suddenly he looked so much older.' They had promised each other that when she finished the cruise, they would travel to visit each other, but she wondered if she would ever see him again. For days she was too sad to leave her stateroom.
We went back to the ship, and I sipped rum on the balcony of our stateroom. I looked through the gauzy white curtain at my girlfriend peacefully lying on the bed, reading a book from the ship's library, later laying it down
across her chest and napping in the light breeze. Being here, just being together, seemed a gift impossibly precious.
That night, we ate in the Italian restaurant at the stern, watching the sky turn apricot and the green silhouette of Africa turn black. There was silver moonlight and slight phosphorescence on the water as we eased out of the Bight of Benin.
Afterwards we went to a show in the Galaxy Theatre and then up to the lounge. The very old woman was there again, dancing and dancing.
'Amazing,' I said to the barman, indicating to her.
'More than you know,' he said. 'She's 100 years old.'
Actually, she wasn't, she was only 94, but she lived on the ship. I managed to speak to her later on. She told me that instead of moving into a retirement village, she had taken permanent occupation of a stateroom on a lower deck. It's not cheap to live aboard, but your meals and drinks are all complimentary, and you have access to 24-hour health care, and the price is not that much more than a good nursing home. But most of all, it allowed her to dance.
She came each night and danced for an hour, sometimes two. It made her feel young again. Every day she'd meet new people from around the world and that would make her feel young again, too. 'And then sooner or later they get off, so they don't even have time to get bored,' she said.
She said she didn't go ashore much anymore, but enjoyed sitting on her balcony and seeing the familiar skylines of her favourite cities: Rio; New York; Hong Kong. She greets them like old friends.
'The world,' she said, 'is so very beautiful, isn't it?'
Much later, Patricia eventually emerged from her stateroom as the ship came back across the Indian Ocean, stopping in India and Mauritius. She emailed Harold every day, and he emailed her back. And then in Cape Town there was a knock on her door, and he was standing there in his plaid knee-length shorts, carrying two bottles of water. 'Want to play some golf?' he asked.
On the day the ship docked at Canary Islands, under the great snow-capped peak of Mount Teide, they married in a special ceremony, then threw a party for their on-board friends in the Palm Court. I went with my girlfriend and we held hands and watched the happy couple sip champagne.
We would be in Lisbon soon, then Southampton, where we would disembark and take the ship's transfer to London, then fly home to our lives. We didn't know how it would work out, but we hoped it would be all right. And we toasted Patricia and Harold, hoping that we would all find a way to be as happy on land as we were at sea.
For 20 years, Crystal Cruises has been voted best cruise line in the world. There are two flagship liners, Crystal Symphony and Crystal Serenity, as well as yacht and river cruises. For more information, contact Jeremy at jeremy@luxurybrands.co.za or call +27 21 702 3436.
---