Call For Governments To Energise Infrastructure Projects
By: Nelendhre Moodley
---
Governments need to energise infrastructure projects and so far they have relied heavily on the private sector to achieve their economic, social and environmental objectives.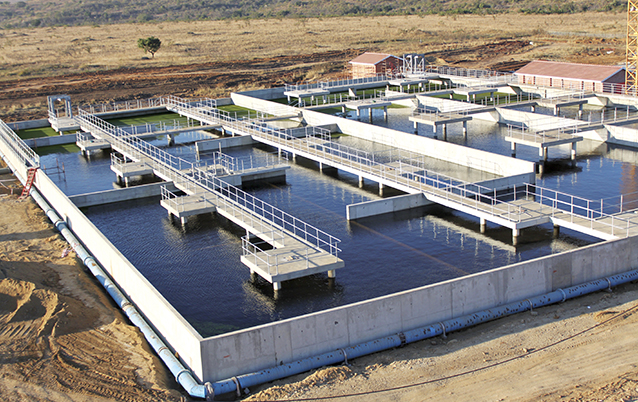 Image: Water treatment works
It is, therefore, expected that governments will become more active in influencing and catalysing their infrastructure markets. This is according to KPMG's Foresight report: A global infrastructure perspective.
The report goes on to state that the reality is that the private sector seeks commercial returns, whereas government is focused on achieving long-term economic benefits and other national objectives.
Frans Pienaar, chairman of Inyatsi Construction Group Holdings, also believes strongly that governments have to play a more proactive role in fast-tracking large-scale infrastructure projects. He notes that the slow-moving pace of public infrastructure development has resulted in a massive infrastructure backlog, which is hampering economic growth on the continent.
"There needs to be greater political will to implement and fast-track projects and remove the massive red tape that hampers progress. As it is the continent is already lagging behind on important infrastructure, such as roads, rail, energy, water and ports, which are an imperative in fostering economic growth," he states.
Moreover, the rate of urbanisation, which is expected to double in the next two decades, is another wake-up call for governments to speed up infrastructure development.
According to the World Bank Urbanisation in Africa: Trends, Promises, and Challenges conference, the share of Africans living in urban areas is projected to grow from 36% in 2010 to 50% by 2030.
Focus on funding
The McKinsey Global Institute's June 2016 Bridging global infrastructure gaps report states that the world invests some $2.5 trillion a year on transportation, power, water, and telecommunications systems.
However, this is not enough. And, in fact, the world needs to invest an average of $3.3 trillion annually just to support currently expected rates of growth. Emerging economies will account for some 60% of that need.
"Years of chronic underinvestment in critical areas such as transportation, water treatment, and power grids are now catching up with countries around the world. If these gaps continue to grow, they could erode future growth potential and productivity. It is therefore critical to get finance flowing into urgently needed projects," the report says.
It advises governments to increase funding streams which can be achieved in a number of ways, including raising user charges, capturing property value, or selling existing assets and recycling the proceeds for new infrastructure.
In addition, the report advocates that 'public accounting standards could be brought in line with corporate accounting so infrastructure assets are depreciated over their life cycle rather than immediately adding to deficits during construction. This change could reduce pro-cyclical public investment behaviour. Unleashing investment in privatised sectors requires regulatory certainty and the ability to charge prices that produce an acceptable risk-adjusted return, as well as enablers like spectrum or land access, permits, and approvals'.
However, Pienaar notes that, despite the global financial challenges, there is significant international investor appetite for African infrastructure projects.
In fact, six of the large infrastructure projects the company is busy working on are funded by international investors.
Projects include the airport road in Swaziland (Phases 1 and 2); water reticulation supply in the south of Swaziland (Lot 1 and Lot 2); and a sewerage plant in Swaziland.
Funders include Dubai Fund, Saudi Fund, Badea Fund, Abu Dhabi Fund, OPEC and European Fund.
The African Economic Outlook 2016 report states that, in 2015, net financial flows to Africa were estimated at $208bn, 1.8% lower than in 2014 due to a contraction in investment. At $56bn in 2015, however, official development assistance increased by 4%; and remittances remained the most stable and important single source of external finance at $64bn in 2015. The report also noted that the continent remained the second-fastest-growing economic region after East Asia.
Infrastructure development
Pienaar explains that Swaziland-based Inyatsi Construction has, over the past few years, expanded its infrastructure development footprint to include South Africa, Zambia and Mozambique, Botswana and Namibia.
The company specialises in infrastructure projects, including roads and earth works, civil work, bridge construction, buildings, storm water drainage, water reticulation, water treatment plants, sewer works, dams and reservoirs.
"We are involved in developing a number of large-scale infrastructure projects in Africa, including a road construction and rehabilitation project named Link Zambia 8000, which aims to modernise Zambia and convert it into a complete land-linked country."
The company has been awarded three road construction programmes on the project and is already progressing with two, with the third awaiting financial traction.
In Swaziland, Inyatsi Construction is busy with the development of the Sisoma water supply project estimated to be in excess of $200m, as well as the $100m European Union-funded Ezulwini sewage reticulation project. It recently completed construction on the KMIII International Airport.
"Swaziland has strong political will and implements projects quicker than anywhere else on the continent. In fact, it implements a lot more infrastructure projects relative to its size."
Commenting on large-scale infrastructure roll-out in Tanzania and Uganda, Pienaar explains that these 'move at a slower place'.
He explains that Kenya, which has a historical infrastructure backlog, is seen as the next growth node, given that it is rich in mineral resources.
However, working across the different regions is not without its challenges, and key among them is the massive delays at border crossings.
"Border controls are frustrating, limit economic growth and add massive costs to projects. Suppliers continue to look for alternate means to deliver goods, such as shipping, which is often quicker."
Pienaar points to The Africa Competitiveness Report 2015, published by the World Economic Forum, which states that the reduction of barriers remains a critical component for increasing Africa's competitiveness.
The report explains that beyond the poor quality of physical infrastructure and high tariffs, estimates showed that 60% to 90% of trade costs related to non-tariff measures.
"Essential among these are simplifying import-export procedures—including streamlining border administration to reduce the cost of procedures and delays during clearance, and improving the coordination of the clearance process."
---