Home » » Are We Wasting Land?
Are We Wasting Land?
By: Adam Oxford
---
The effect that artificial irrigation has on farmland can't be underestimated.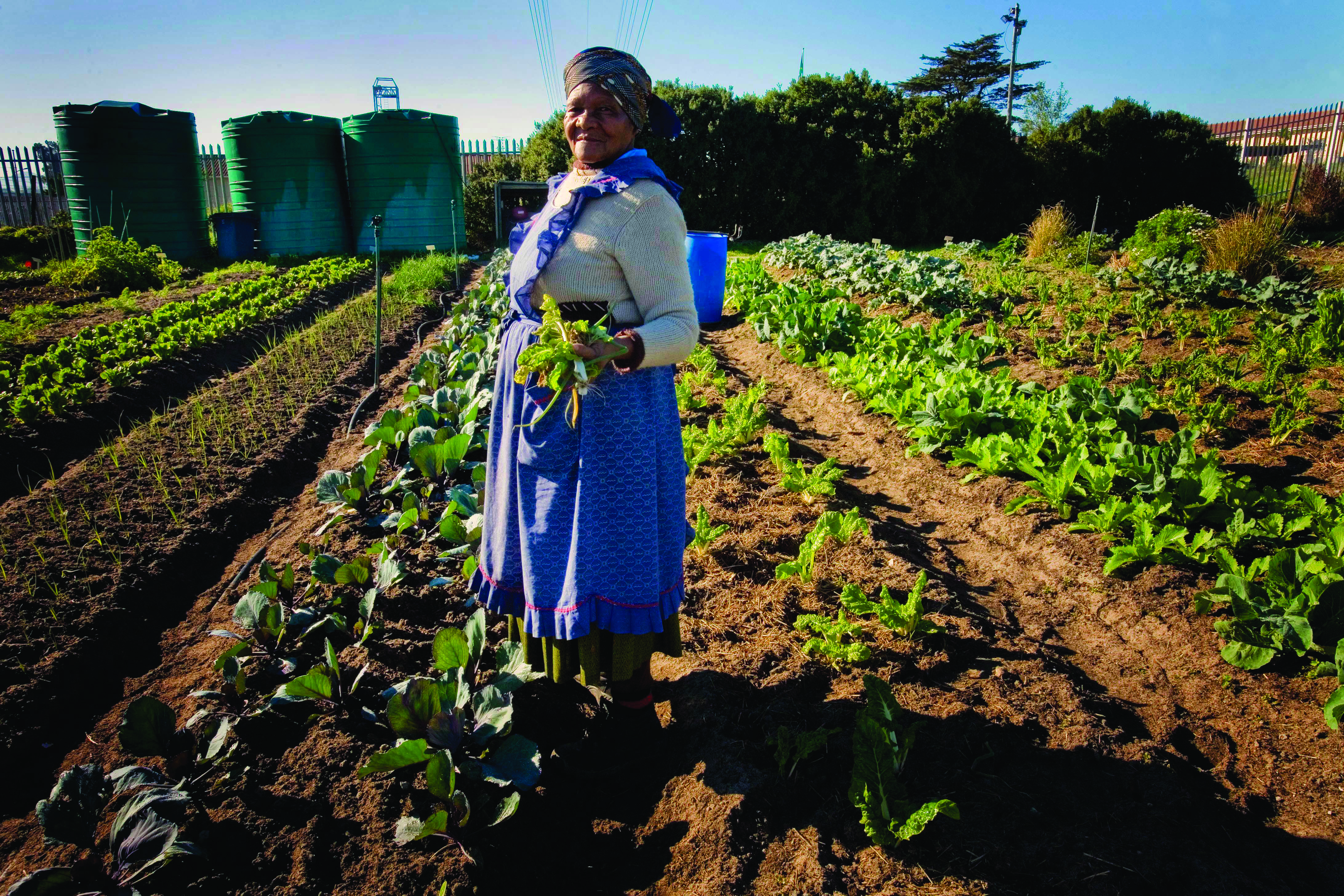 Image: Philipina Ndamane holds up some of the vegetables she has grown in the Abalama Bezehkaya garden in Guguletu, Cape Town, South Africa
Travellers in the arid Northern Cape, perhaps on their way to the even drier Kgalagadi Transfrontier National Park or the sand dunes of Namibia, often double-take when they hit the agricultural town of Upington. Scrubland and desert suddenly give way to rich greenery, with giant palm trees everywhere and famous vineyards scattered around. It's a literal oasis in a barren landscape, where every garden is irrigated and farms are highly productive.
Upington, of course, is a beneficiary of the nearby Orange River, which provides flood plains and huge amounts of water for irrigation. Without it, agriculture here would be improbable; with just 189mm of rain a year, Upington receives a quarter of the rainfall of Johannesburg and a third that of Cape Town. Yet, thanks to a century-and-a-half of pumping water from the river, it's green all year round.
The effect that artificial irrigation has on farmland can't be underestimated. According to a recent PWC report, South Africa has around 12.7 million hectares of cultivated land, but almost a third of all our food comes from the 1.2 million to 1.5 million hectares that are irrigated. Growing food is thirsty work; almost two out of every three litres of water used in the country goes to agriculture.
Given South Africa's natural constraints surrounding water, building more Upingtons may not be the answer to improving South Africa's farm yields. The National Development Plan (NDP), however, aims to create a million jobs in the agricultural sector, largely by expanding the amount of irrigated farmland by 500 000 hectares, primarily by improving infrastructure on smallholdings owned by black farmers.
Prof Wim van Averbeke of the Tshwane University of Technology has spent many years studying smallholder farms in South Africa, and is the co-author of a recent report published on the subject of irrigation for the Water Research Council. Van Averbeke says that, so far, the NDP has disappointed. Not only has there been little achieved by way of new infrastructure since the introduction of the NDP, but the privatisation of existing infrastructure under the Irrigation Management Transfer (IMT) programme has held back investment in existing infrastructure too.
The IMT is an international programme undertaken by 60 countries. According to the Food and Agricultural Organisation of the United Nations (FAO), only in African countries has this programme resulted in decreased access to and poorer maintenance of irrigation systems.
"No African country is really doing irrigation right," says Van Averbeke, who adds that we should look to similarly water-constrained Asian countries for lessons in how to manage farmland constrained by lack of rainfall.
According to Van Averbeke, irrigating smallholdings increased yields by a factor of five and almost doubled the income of households involved, and not just as a direct result of produce sales or reductions in expenses due to self-sufficiency.
"A lot of the benefits came from opening up other opportunities," he explains. "By building up wealth and resources, these households could do more things to raise income. This included educating children, and therefore reducing unemployment and dependencies, for example. Irrigation is a direct benefit, but also a long-term benefit as a process in which poor rural households escape poverty and become resilient against shocks such as drought."
There was also a notable improvement in the diets of those involved in irrigation schemes, he notes, as households were able to grow more vegetables and be less reliant on starches such as maize.
Unfortunately, adds Van Averbeke, implementation of irrigation schemes isn't a quick fix in all cases. Not all smallholdings can be irrigated in a cost-effective manner; in some cases, it's extremely affordable – a pump to bring water from a river can cost around R3 000, but building large rainwater capture systems or boreholes costs tens of thousands of rand, which is beyond the means of those most in need.
The issue is also closely linked to land reform. Part of the problem with current infrastructure is that it was built during the apartheid era to benefit farms still mostly under white ownership. "The model for expansion of irrigation isn't working," he says. "Existing irrigated land must be transferred."
---