APE Pumps Strategises For The Next Century
By: Nelendhre Moodley
---
Pump manufacturer APE Pumps, which is celebrating 65 years in business, attributes its success to strong relationships with its clients and the manufacture of robust equipment, project manager Richard Harper tells SA Mining.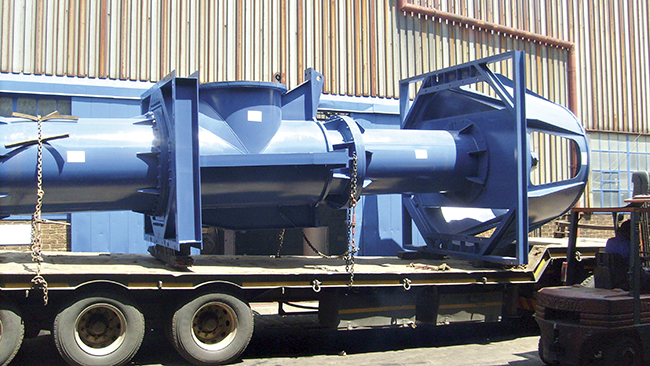 Image: Single-stage vertical turbine pump
"We have a vested interest in our clients, and have developed a relationship of trust over the years by supplying high-quality products. APE Pumps is a well-known brand that continues to have longstanding relationships with clients, including Sasol and Anglo American. In fact, some relationships extend back to 1952, when the company first opened its doors."
One of the largest pump manufacturers in South Africa, APE Pumps is believed to be the only pump producer to train pattern-makers, a highly skilled profession that entails developing blueprints for the creation of new product ranges.
"The company has around 30 000 different pump patterns, which equates to 30 000 different pump ranges that have been developed over the years. This alone is testimony to an extensive range of pumps, so we can effectively supply pumps for any pump application," explains marketing and business development manager Dave Johnson.
Tailor-made solutions
Its vast knowledge and extensive product range enable APE Pumps to provide tailor-made solutions for its clients, adds sales engineer Norman Kroukamp.
Key clients from the power, mining, petrochemicals, and the water and wastewater industries are increasingly looking for turnkey solutions. One of these was the recent €16m upgrade project to rehabilitate pipelines and pump stations supplying water from the Shire River to the Malawi city of Blantyre.
"We are currently in discussion with South Africa's national oil company, PetroSA, which requires refurbishment of its pumps range. The contract will see APE Pumps restore around 60% of PetroSA's existing pumps as the petrochemicals producer moves from a gas system to an oil refinery process," explains Johnson.
In addition, state-owned entity Umgeni Water has also contracted APE Pumps to refurbish the majority of its vertical pumps.
Local investment
It is during challenging economic times that industry and government need to increase investment in the local manufacturing sector, and create much-needed jobs, suggests Kroukamp. Investment could be through increased training and skills development. He adds that industries, including the power and petrochemicals sectors in the form of Sasol and Eskom, have been looking to pump producers to train their employees to better handle equipment.
"There is a massive need to invest in the youth, who are well placed to help industry adopt new-age technologies, such as disruptive technologies, which are fast gaining momentum. Such initiatives will go a long way towards helping clients reap benefits of improving product efficiency, among other things," explains Harper.
Moreover, such a move would complement and extend the existing knowledge base and drive industry competitiveness. South Africa's relegation to junk status is expected to have significant cost implications for locals. The concern is that cost-competitive Asian products will become increasingly more attractive to challenged industries, thereby further sidelining local industries, cautions Johnson.
The trend that will follow will be for product replacement instead of product repair, refurbishment and maintenance, he adds.
Meanwhile, in line with its expansion strategy, APE Pumps is looking to increase its sales complement.
"We are looking to expand our market into South America (Chile, Brazil and Peru) and into North Africa, as well as into Madagascar. We already have an extensive presence in Ghana, Namibia, Botswana and Zimbabwe, with agents in Tanzania, Mozambique and Malawi. New areas that we are looking to enter include the Democratic Republic of Congo and Uganda," asserts Harper.
History
The origins of APE Africa date back to 1952, when WH Allen stationed a representative in the offices of Dowson & Dobson. In 1959, Allen Gwynnes SA was founded, with Dowson & Dobson as managing agent, and in 1968, Allen Gwynnes and Belliss & Morcom SA merged to form Amalgamated Power Engineering. With the acquisition of Sangus in 1971, all manufacturing operations were moved to the present factory in Wadeville, on the East Rand. A name change to APE Pumps followed, in 1997.
In the early days, the company focused on supplying borehole pumps, mainly to farmers.
---