---
The man-in-the-street view of illegal mining – that it is just individuals scrounging for scraps of gold – is far removed from the truth.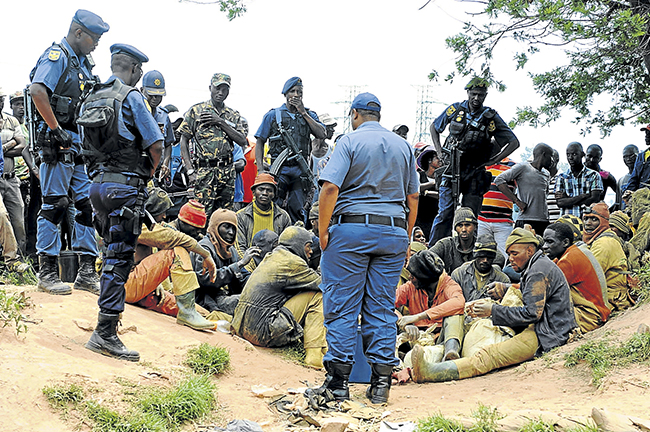 Image: Peter Mogaki. ©Sowetan
Driven by South Africa's troubled socio-economic environment and the strong gold price, illegal mining is on the rise in South Africa. It is estimated that there are tens of thousands of people currently either directly or indirectly involved in this practice, some 90% of which are undocumented foreign nationals, predominately from Lesotho.
Incredibly, the annual commercial value of illegal mining, and illicit dealings in precious metals and diamonds, is estimated to be in the region of R20bn.
Moreover, it is an industry that continues to grow, with new trends being noticed in recent months. These include illegal mining encroaching onto the diamond fields in Kimberley, as well as chrome mining in the Limpopo district. Evidence of illegal mining in the coal industry has also become apparent.
Charmane Russell, spokesperson for the Chamber of Mines, explains that illegal mining activities can take place either on the surface or underground, and occur at closed-off, abandoned and even operating mines. Illegal miners sometimes travel 3km or more underground, often living there for several days at a time.
"While some illegal miners act out of economic desperation, we cannot ignore that illegal mining activities are directly linked to a lucrative illicit trade in precious metals and diamonds, not to mention wildlife, weaponry and drugs at a global level," she says.
Huge impact
The Chamber has estimated that the overall cost to the industry and the fiscus, encompassing not only the actual minerals and metals, but also sales, taxes and royalties, is in the region of some R20bn per year – and this is probably an underestimate, as many illegitimate activities cannot be properly quantified.
"In terms of the number of people involved, again, there are no sound estimates available due to the illegal nature of the business. However, there is no doubt that there are tens of thousands of illegal miners operating across South Africa, with even more people giving them direct or indirect support."
Russell suggests that the impact of illegal mining is felt across the spectrum, and is not simply limited to its impact on mining and production. Illegal miners often enter operating mines and are responsible for shrinkage – not just in terms of ore, but also via theft of copper, electricity cables, dragline cables and diesel.
"Furthermore, they may damage infrastructure and equipment, and they often threaten and intimidate legitimate employees. Illegal miners have been the cause of underground fires, for example, that have endangered the lives of those employed in the mine. Inevitably, this means that companies have to pay significantly greater security costs, and costs related to unnecessary stoppages, repairs and maintenance.
"Even illegal mining operations on the surface can affect existing mines, with sabotaged pipelines contaminating the environment and needing to be cleaned up. In addition, they are involved in illegal water usage and wastage, and all of this can lead to sinkholes forming as a result."
Tackling the challenge
Illegal mining occurs across all commodities, she continues, but it does tend to occur more frequently in the gold, diamond and chrome sectors.
"The Chamber has recognised that the only way to effectively deal with the problem is to focus on both the supply and demand side of illegal mining. This means coming up with a plan to tackle all five levels of the syndicates."
That said, until all of the underlying factors contributing to crime in South Africa, including illegal mining, are addressed, we will be addressing only the symptoms. This means a focus on the entire legal enforcement system – policing, prosecution, immigration and border control.
"Naturally, the challenges related to such an approach are significant, which is why the Chamber has recognised that no single stakeholder can address all the issues related to illegal mining on its own; collaboration is key. Therefore, the industry, both individually and through the Chamber of Mines, remains committed to working with other stakeholders, including the DMR and the SAPS, to address this serious challenge," Russell concludes.
---