---
On the back of unfavourable market conditions and subdued demand, steel producer ArcelorMittal South Africa (AMSA) is actively seeking new growth opportunities, CEO Wim de Klerk recently told the media at a briefing announcing the company's financial results for the six months ended June 2017.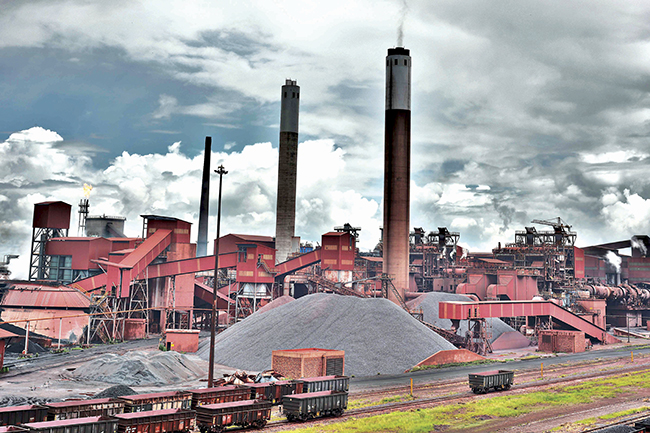 Image: Steel mining
De Klerk cited the country's downgrade to sub-investment grade, South Africa's gross domestic product (GDP) growth rate of -0.7% in the first quarter of 2017 and declining business confidence as factors that have had an adverse impact on the industry. The poor state of the economy has resulted in minimal local investment and infrastructural spend, particularly in the construction and manufacturing sectors, which has seriously constrained growth in the local steel market.
With the market already in oversupply to the tune of 800 000t, government's initiatives promoting new market entrants are expected to add a further 800 000t, making the operating environment even more challenging.
"In order to address the serious challenges that we are facing, we are exploring several initiatives, including additional cost-cutting interventions, assessing the profitability of various product lines and implementing structural changes, which will take place within the next six months," stated De Klerk.
AMSA's action plan is focused on four key areas: procurement (cost control over contracts, lower electricity and rail tariffs, and raw material analysis), organisational and industrial footprint (through benchmark initiatives, ceasing non-performing production lines, evaluating capex requirements and structural changes), commercial initiatives (improve market share/increase volumes, focus on product range) and implementing short-term initiatives to unlock further cash (through productivity improvements, asset disposal and finding a market for its excess material).
In particular, AMSA is re-evaluating its procurement contracts with electricity and rail suppliers, with the intention of pulling out of contracts that are no longer viable.
De Klerk specifically bemoaned the winter tariffs that its Saldanha Works, located on the West Coast, was paying, stating that the plant paid 180% more than any of its other plants on the winter electricity tariff rates.
As a result, AMSA, which had hoped that power producer Eskom would agree to reduce its tariff rates, has been forced to seek a negotiated price agreement with the National Energy Regulator (NERSA) instead. De Klerk noted that the soaring electricity prices had led to a number of distressed businesses closing down, especially in the ferrochrome segment.
Meanwhile, Eskom is looking for a further electricity price hike of around 19.9% from April 2018, a situation that is expected to put further strain on consumers.
Excessive rates from state-owned freight transport company Transnet are also frustrating the steel producer. According to De Klerk, it cost more to move goods locally than it did to import them, and over the past five years the company had paid Transnet 50% more than the producer price index (PPI).
Given AMSA's focus on seeking competitive pricing from its suppliers, the company is already procuring around 700 000t from 10 new producers.
Cost-cutting measures include re-evaluating its product lines with a view to discontinuing unprofitable lines, and evaluating the option to sell off parts of its non-core assets, in a bid to realise profitability.
De Klerk said the company was looking to realise gains from its excess material, but would do so at a time which favoured the best prices. In addition, the steel producer is looking to expand its footprint into Africa, which it regards as a lucrative market.
"Africa is a 900 000t market and we have less than 30% of this market," said De Klerk, who added that AMSA was in talks with African embassies to determine infrastructure outlay by the various African governments.
Performance in the six-month period
Total steel sales volume decreased by 95 000t over the six-month period, and local sales declined by 9.2% compared to the previous period due to the difficult trading conditions, the company said in a statement.
However, this was partially offset by export sales, which improved by 15.9%. Looking ahead, the implementation of safeguards is expected to improve sales volumes of flat products.
Although global steel demand showed some improvement in the first half of 2017, China's steel demand remained relatively flat compared to the last half of 2016. AMSA cited improved demand as a result of an improvement in finished steel prices in key markets such as China, Europe and the US, where imports of steel had increased in recent months.
Overall, African markets have remained positive due to the drive towards infrastructure investments in rail, road and energy projects, specifically in the west and east sub-Saharan regions. In the southern African region, fiscal concerns and weak commodity prices have hampered investment progress. South African producers have lost sales in other African markets due to cheap imports into the continent, the company said.
Steel performance for the remainder of the year
Although domestic steel demand is expected to remain subdued in the second half of the year, due to the continued low economic growth and ongoing poor infrastructure spend, De Klerk expects flat steel and long steel businesses to realise gains from the implementation of safeguard duties. The business is also scheduled to see improvement "as the full benefit of the heavy sections and rail volumes is realised".
---