---
Sandvik to establish local manufacturing facility.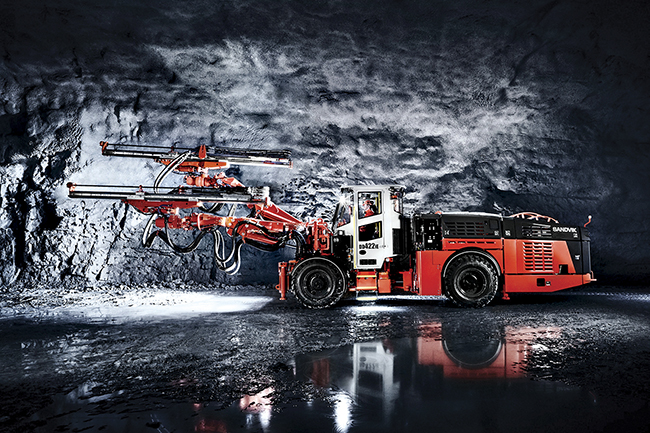 Image: ©Sandvik
Southern Africa is the second-biggest sales area for Sandvik Mining and Rock Technology globally, and remains a key strategic focus going forward. In fact, the equipment supplier is investigating the possibility of establishing a local manufacturing and assembly plant in South Africa, Sandvik's vice-president for sales in Southern Africa, Simon Andrews tells SA Mining in an exclusive interview.
"Sandvik is committed to a sustainable future in South Africa, and the associated opportunities and benefits that such an initiative would bring to the local economy are significant. Key among these being local employment, skills development and technology investment," says Andrews.
According to StatsSA's quarterly employment statistics, the manufacturing sector had shed 32 000 jobs in June 2016 compared to June 2015 – this is a clear indication that investment injection into the local economy is much needed.
Andrews explains that aside from the massive benefits of manufacturing products in the local currency and the subsequent competitive edge that the company will gain from establishing a manufacturing hub, there will also be numerous social benefits, including job creation and skills upliftment for the country.
"This will enable Sandvik to take advantage of its large market share in certain segments and illustrates Sandvik's good corporate citizenship in South Africa," states Andrews.
He adds that Sandvik is also accredited for complete equipment rebuilds, which is done at Sandvik's premises on the East Rand.
"We rebuild between 60 and 70 mining machines per annum for the Southern African market."
Technology drives the way
"Technology advancements are fast changing the business of mining away from mechanical equipment operations towards light sensitive touch control. This is the future of mining and it requires a new mindset and new skills," states Andrews.
The Ernst & Young (EY) report Top 10 business risks facing mining and metals, 2016–2017 adds weight to the argument that business needs to increase their focus on adopting innovation and technology.
Whilst cash preservation will enable mining companies to maintain stronger balance sheets for the long term, there should also be continuous investment in innovation, technology, as well as research and development, the report states.
Having revolutionised the mining equipment space ten years ago with the introduction of driverless vehicles at a mine in the Northern Cape, Sandvik has continued with this game-changing trend. The key concern from today's customer is how their equipment can improve the bottom line, and it is Sandvik's aim to assist clients achieve their production goals.
To this end, the equipment supplier is busy investigating the opportunities associated with fleet data management software as a standard installed feature onto its machines.
According to Andrews, implementation of the data management system will deliver numerous advantages, including cost reduction through monitoring and analysis of information on the equipment. The data management software is being piloted at operations where Sandvik has full service offerings. The equipment supplier expects to install the FDM systems across all its equipment by the end of next year.
"Customers are clearly concerned with the total lifecycle cost of their equipment, and, while it is difficult to place a tangible value on the data management programme, the pilot study currently under way will provide us with relevant information relating to product performance. The software will enable us to identify and reduce the associated equipment costs and thereby reduce the equipment lifecycle costs," explains Andrews.
Another technological development that the high-tech group is offering its clients is assistance with phasing out outdated equipment at old ongoing mining sites in favour of modern efficient technology that significantly lifts production rates.
According to the Ernst & Young report, productivity remains in the top three risks for the year ahead as many miners continue to struggle to make improvements in asset productivity. "We believe that companies need to embed sustainable loss-elimination practices through employee engagement, plus an integrated end-to-end approach for long-term productivity improvement," the report states.
For Andrews, assisting clients achieve their targeted production rates is high on the agenda. "The key question from mining houses has been: how do we install new technology in old mines to improve production?" As part of the process of introducing the advanced modern equipment, Sandvik provides clients with an operational analysis of their operations to indicate production improvements using the new technology and 'we go as far as to train operators to efficiently and effectively handle the new technology'.
---