A Compelling Vision For SA's Infrastructure
By: Brindaveni Naidoo
---
Power, water, electricity, telecommunications, commercial property development, agriculture and housing – these are but some of the sectors in which South Africa has made progress in developing critical infrastructure, but significant challenges remain in closing the infrastructure development gaps across the country.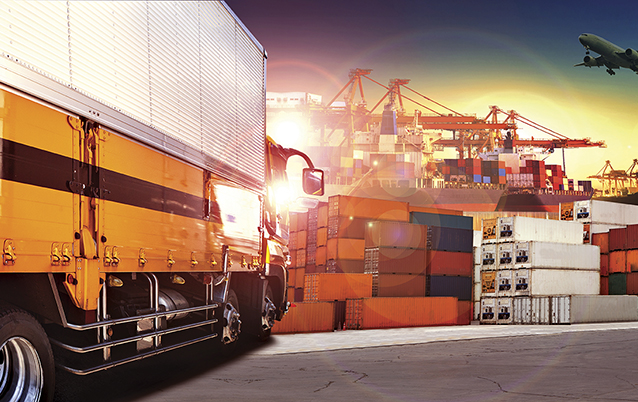 Image: iStock© suriya silsaksom - Improved freight logistics is crucial to economic growth
BMI Research, a Fitch Group Company, states that South Africa's construction market has entered into a period of subdued growth, as macroeconomic and operational headwinds weigh on business confidence and limit productivity in the sector.
BMI forecasts a construction industry value of R154.34bn for this year, with construction industry value (real growth % year-on-year) at 1.6% and construction industry value as a percentage of GDP at 3.5%.
"We are maintaining our forecast for 1.6% real growth over 2016 and annual average growth of 2.2% in real terms over the next five years up to 2020. Nominal industry value will rise from an estimated $11.2bn in 2015 to $15.5bn in 2025, keeping it as one of the largest construction markets in Sub-Saharan Africa," the company revealed in its latest South Africa Infrastructure Report.
The report also indicated expectation around rail and renewable energy sectors posting the most solid performance, with improved freight logistics and a more stable power supply crucial to economic growth. "Support will also stem from the continued implementation of the low-cost housing programme."
It states that: "The new Protection of Investment Act passed in 2015 will provide additional barriers to market entry, favouring domestic private firms and international firms with an established presence in the industry; while frequent labour strikes and electricity shortages weigh heavily on firms' productivity and are key deterrents to entering the market."
Energy in the spotlight
Meanwhile, Brian Statham, chairperson of the South African National Energy Association, also stresses the importance of an integrated energy plan to attract and promote investment into the country's current and future energy market.
Statham believes that the biggest threat to the development of energy infrastructure in South Africa is the lack of a credible and compelling vision for our energy future. He said: "For this vision to be realised we need robust integrated energy planning and policy."
Kevin Nassiep, CEO at the South African National Energy Development Institute (SANEDI), echoes similar sentiments, and believes that government finalising the Integrated Resource Plan (IRP) for electricity would be a step in the right direction in closing the gaps that exist for the country's energy mix, as well as providing clear signals to investors and developers.
To resolve the energy challenges in the country, the Department of Energy will complete the Integrated Energy Plan and IRP for electricity by the end of this year. This was confirmed by President Jacob Zuma in his oral replies to questions in the National Assembly in September.
Nassiep tells Infrastructure that it is difficult to pre-empt the structure of the IRP for electricity but that it would require much debate and value to be given to many fundamental issues that underpin the country's energy mix. But, by closing the gaps on these "issues", it would create certainty for many stakeholders and propel infrastructure development in the energy sector.
For example, he says that while the Renewable Energy Independent Power Producer Programme is "world-class"; the highly competitive pricing for renewable energy could displace the option of future generation.
For gas, he adds there remains uncertainty around supply issues – for example, Sasol relies on imports from Mozambique but PetroSA is yet to secure long-term access to gas supply. Gas-powered generation is being looked at by the Department of Energy with a peaking plant under consideration at present.
"If liquefied natural gas is sourced internationally and made available to the wider energy market, the potential for job creation and climate change mitigation improves significantly.
"Do we build another large coal-fired power plant? And if we did, we must consider carbon capture and storage (CCS) in its implementation – a technology that is a decade away from commercial viability. We should also seriously weigh the benefits gained through large centralised power stations versus small decentralised power stations.
"Throughout the world it is understood that there are huge transmission and distribution losses associated with larger power grids; and we should consider the optimisation that can be achieved via small power or micro grids."
He adds that greater socioeconomic benefits accrue to communities in proximity to smaller, decentralised plants than would otherwise be the case with the larger, traditional "six-pack" power stations we are accustomed to.
Meanwhile, Nassiep also discusses a potential 2c/kWh levy on electricity as providing a huge opportunity to drive further infrastructure development in the energy sector.
"With this levy, we could raise some R4bn/year and use it to invest in solar water heating panels, demonstration projects for clean energy technologies, smart meters or solar panels, etc. It will enable subsidies or even a 100% grant. This levy would be linked to a sustainable funding model and the levy would need to be ring-fenced specifically for the aforementioned reasons.
"Ultimately, South Africa needs a sustainable funding source that can manage electricity demand with the aim to curb energy poverty and provide energy access to all. To achieve this, plans across the energy value chain need to be executed in order to remove uncertainty around the country's power woes and to drive economic growth," Nassiep concludes.
---