1,332-MW Ingula Pumped-Storage Project in S.A Puts First Unit Online
By: Gregory B. Poindexter.
---
Unit 4, the first of four units at the 1,332-MW Ingula pumped-storage hydroelectric project owned and operated by South African utility, Eskom, began commercial operations, according to a June 10 company announcement.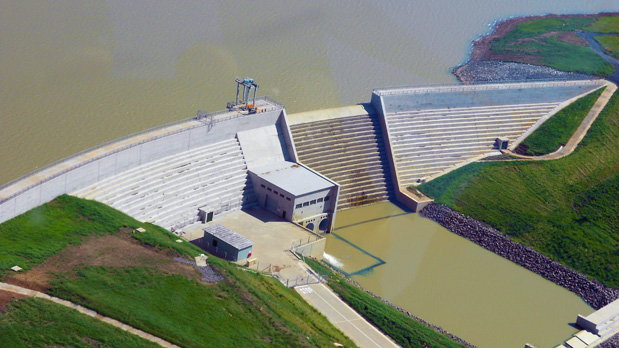 Ingula pumped-storage scheme. (©Google Images).
The Ingula pumped-storage project is located on the Great Escarpment geological formation in the Little Drakensberg range and it straddles the border of the Free State and KwaZulu-Natal provinces in South Africa. Construction of the US$3.5-billion facility began in 2006 and according to Eskom, all four of Ingula's units are scheduled for commercial operation in 2017.
Unit 4 was synchronised to the national grid on March 25 and "has been undergoing optimisation while supporting the national grid," according to Eskom.
Optimisation is a process that after synchronisation, involves testing to ensure the unit performs per design specifications.
The scheme utilises the following:
The upper Bedford Dam, a 39-m-tall concrete-face rock-fill dam that impounds Bedford Stream, a tributary of the Wilge River, creating Bedford Reservoir. The reservoir has 22,400,000 m3 of water storage capacity, of which 19,200,000 m3 can be used for power generation;
The lower Bramhoek Dam, a 41-m-tall roller-compacted concrete gravity dam that impounds Bramhoek stream, a tributary of the Klip River, creating Bramhoek Reservoir. The reservoir has 26.3 million m3 of water storage capacity, of which 21.9 million m3 can be pumped up to the upper reservoir;
A 1.2-km-long headrace tunnel from the upper reservoir to the powerhouse that has a hydraulic head of 480 m;
A powerhouse located 350m below ground, about 460m lower-than and 2 km away from the upper reservoir, containing four 333 MW reversible Francis pump-turbines; and
Water from the power station is discharged down a 2.5-km-long tailrace tunnel to the lower reservoir.
According to Eskom, a fault occurred on the Unit 3 generator and it is being repaired. The unit was synchronised to the national grid on March 6 and supported the grid until April 6 when post-synchronisation, a contractor was performing commissioning tests and caused damage to the generator rotor coils.
The unit was still under the control of the contractor who will be responsible for the recovery of the damaged portion of the unit, according to the company.
Ingula Unit 2 was synchronised to the national grid on May 22 and is under optimisation, and Unit 1 is being constructed.
According to Eskom, when the project is fully-commissioned, it will be able to respond to demand increases on the national grid within 2.5 minutes. The company also said the Ingula facility will be Africa's newest and largest pumped-storage scheme, and the 19th-largest in the world.
---